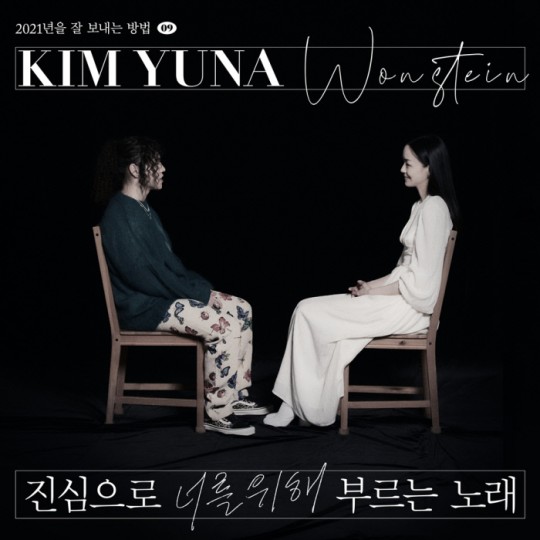 Kpop singers Yuna Kim and Wonstein presented a special collaboration song.
Yuna Kim and Wonstein released 'Song For You' through various music sites at noon on September 15th.
Content Lab VIVO's 'How To Spend 2021 Well' project in September Artist Yuna Kim and Wonstein's 'Song For You' is a comforting song for the weary people. It features heartfelt and warm consoling lyrics. So, the two will present a deep resonance through their unique vocals and rap.
Yuna Kim and Wonstein directly participated in writing the lyrics for 'Song For You.'
In fact, the two also participated in the tvN drama 'Goblin' OST 'I'll Go To You Like The First Snow' sung by Ailee. Then, Rocoberry, who composed Mirae Yoon's 'Always,' started to support 'Song For You' by enhancing the completeness of the song.
Previously, Content Lab VIVO released a lyric photo teaser of 'Song For You,' written by Yuna Kim and Wonstein, at 6 pm on September 14th. In the published lyric photo teaser, the lyrics full of sincerity that stimulate consensus, such as "It's okay, you're doing really well now" and "Don't think you're alone," amplified the expectations for the song.
Yuna Kim continues her reputation as a luxury vocalist. She is the vocalist of the mixed group Jaurim, creating many hit songs, including, 'Twenty-five, Twenty-One.'
Then, Kpop rapper/singer-songwriter Wonstein became popular through Mnet's 'Show Me the Money 9.' He has been active as a member of MSG Wannabe formed on MBC 'Hang Out With Yoo.'
The 'How To Spend 2021 Well' project, which Yuna Kim and Wonstein joined together, is VIVO's music project. It presents collaborations with various artists every month, donating music revenue to social groups suffering from COVID-19. The two are the fifth artists, starting with Second Aunt Kim Davi, following Miran Ra, ITZY, and Hyorin x Dasom.
VIVO's music project is a fresh combination of KPop singers Yuna Kim and Wonstein. With the support of NCsoft's cultural content brand FEVER, it seeks to overcome limitations and deliver pleasure in various fields.
Read More About: DIA Celebrates Their 6th Debut Anniversary!
2021 kpop news
,
2021 kpop updates
,
best 5 autumn singers
,
best Kpop girl group
,
best kpop news site
,
best Kpop site
,
best kpopstar
,
bts the best album
,
KPOP
,
Kpop 2021
,
Kpop artist
,
Kpop artists
,
KPOP comeback
,
Kpop idols
,
Kpop latest news
,
kpop latest updates
,
Kpop news
,
Kpop recent news
,
Kpop trend
,
Kpop trending
,
KPop trending news
,
Kpop trending now
,
kpop trending update
,
kpop wonstein
,
KPOP2021
,
Kpopall
,
KPOPIDA
,
KPOPNEWS
,
latest kpop news
,
latest kpop updates
,
mirani heat ft. wonstein and lilboi
,
recent kpop news
,
singer yuna kim
,
sole feat. Wonstein
,
suran feat. wonstein'
,
the best kpop girl group
,
the best kpop girl group of 2021
,
the best kpop group of 2021
,
Trending
,
trending 2021
,
trending kpop
,
Trending Kpop news
,
trending kpop update
,
trending news
,
trending update kpop
,
WONSTEIN
,
yuna kim