The best artists in Korea will be on the stage of 'Korea With A Greater Maritime Territory.' On August 5th, KBS announced, "Younha, Forestella, LEENALCHI, and Layers Classic have confirmed their appearance on the stage of the 8.15 special project 'Korea With A Greater Maritime Territory."
Vocalist Younha with a lyrical tone, Forrestella, a crossover group with the best harmony, LEENALCHI, an alternative pop band attracting attention for 'Tiger Is Coming,' and the Classic Ensemble Layers Classic joined the first lineup For 'Korea With A Greater Maritime Territory.'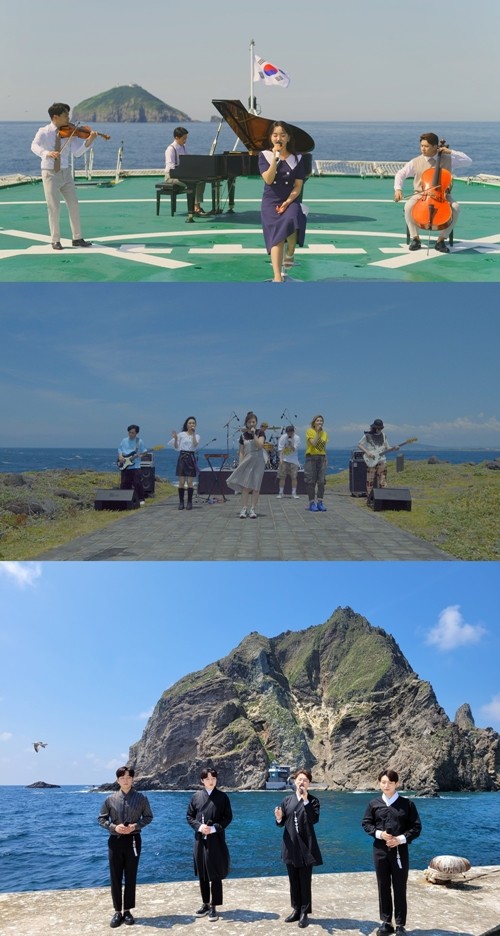 In this project, artists with strong individuality, regardless of the genre, have gathered. So, 'Korea With A Greater Maritime Territory' is raising expectations by foretelling a fresh stage and various attractions. They plan to re-illuminate the maritime territory of Korea with a high-quality stage and deliver a heartwarming message.
'Korea With A Greater Maritime Territory' aims to improve the public's awareness of the 'real Korean territory,' which is still recognized as a 'hidden land.'
It aims to look back for people who shed blood and sweat to protect the maritime territory. It is a large-scale performance.
Particularly, this performance includes an indoor stage that will air live at KBS Hall. Also, there will be an outdoor stage that connects the three maritime territorial bases. It includes Dokdo, the eastern end of the territory, Marado, the southern end, and the non-violent Island at the western end. This will surely provide a special impression among the viewers.
Following Younha, Forestella, LEENALCHI, and Layers Classic, KBS will sequentially announce the 2nd lineup of artists and star presenters. So, viewers' interest and enthusiasm for 'Korea With A Greater Maritime Territory' continues.
The 8.15 special project, 'Korea With A Greater Maritime Territory,' will air on KBS 1TV for 110 minutes. This will air from 5:10 pm on August 15th.
Read More About: BLACKPINK To Open A Pop-up Exhibition!
8.15 special project
,
Korea With A Greater Maritime Territory.'
,
Korean celeb news
,
KPOP
,
Kpop artist
,
Kpop artists
,
kpop celebrity news
,
kpop Go Younha
,
Kpop latest news
,
Kpop news
,
Kpop recent news
,
Kpop trending
,
KPop trending news
,
kpop younha
,
kpop Younha news
,
KPOP2021
,
KPOPIDA
,
KPOPNEWS
,
latest kpop news
,
latest kpop updates
,
recent kpop news
,
singer Younha
,
Trending
,
trending 2021
,
trending kpop
,
Trending Kpop news
,
trending kpop update
,
trending news
,
trending update kpop
,
Younha Go
,
younha kpop