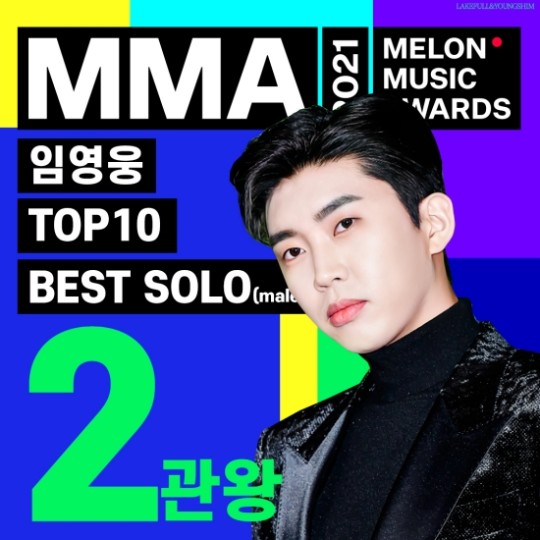 Kpop singer Youngwoong Lim receives congratulatory messages from fans after winning two awards at the 'Melon Music Awards 2021 (MMA 2021).'
'Melon Music Awards 2021' took place from 7 pm on December 4. IU, Mujin Lee, Heize, Youngwoong Lim, MSG Wannabe (M.O.M), TXT, The Boyz, ENHYPEN, Brave Girls, STAYC appeared to set a splendid performance.
Kpop singer Youngwoong Lim received the TOP10 and Best Solo Male Award, taking home two awards that night.
He expressed his gratitude to the fans. Youngwoong said, "I am grateful and happy to be able to receive this award at the MMA again this year.
Fans are continuing to celebrate his achievement, winning two awards.
Meanwhile, 'Melon Music Awards 2021' put forward the slogan 'NEXT MUSIC UNIVERSE MMA 2021.'
They selected the winners of special awards in 6 categories. It includes Artist of the Year, Album of the Year, Record of the Year. Also, there are 8 Best Awards, including Best Solo and Best Group, and ten categories, including Hot Trend Award and Performance Award. 
Read More About: Chanwon Lee Gifted Fans A Bouquet Of Roses For Attending His First Fan Concert In Ulsan, Korea
actress IU
,
After We Ride
,
ASAP
,
best Kpop girl group
,
best kpop news site
,
best kpopstar
,
Brave girls
,
Brave Girls members
,
breaking news kpop
,
changmo
,
Chi Mat Ba Ram
,
daily kpop news
,
Fandom
,
Foolish love
,
IU
,
IU news
,
iu songs
,
iu tv
,
IU updates
,
iu works
,
Jaejung Parc
,
Jieun Lee
,
Jungmin Kim
,
Korean celeb news
,
Korean singer
,
Korean singer songwriter
,
KPOP
,
Kpop album
,
Kpop beauty routine
,
Kpop boy group
,
Kpop Brave Girls
,
kpop celebrity news
,
Kpop chart and news
,
Kpop colllaboration
,
KPOP comeback
,
Kpop current news
,
kpop daily news
,
Kpop fashion
,
Kpop girls group
,
Kpop group STAYC
,
Kpop idols
,
Kpop issues
,
Kpop IU
,
Kpop latest news
,
kpop MSG Wannabe
,
Kpop music chart
,
Kpop news
,
Kpop news articles
,
Kpop news sites
,
kpop news update
,
Kpop recent news
,
Kpop skin care routine
,
Kpop skincare routine
,
kpop stayc
,
KPop trending news
,
KPOPNEWS
,
MOM
,
msg wannabe
,
msg wannabe MOM
,
MSG Wannabe project
,
MSG Wannbe group
,
MSG Wannbe JDSK
,
Rollin
,
simon dominic
,
singer IU
,
South Korean singer songwriter
,
Star To A Young Culture
,
StayC
,
STAYC debut
,
STAYC members
,
STAYC news
,
STAYDOM
,
SUKJIN JI
,
summer queen
,
the best kpop girl group
,
the best kpop girl group of 2021
,
the best kpop group of 2021
,
the top kpop group
,
top kpop boy group
,
top kpop girl group
,
We Ride
,
WONSTEIN
,
Yuna