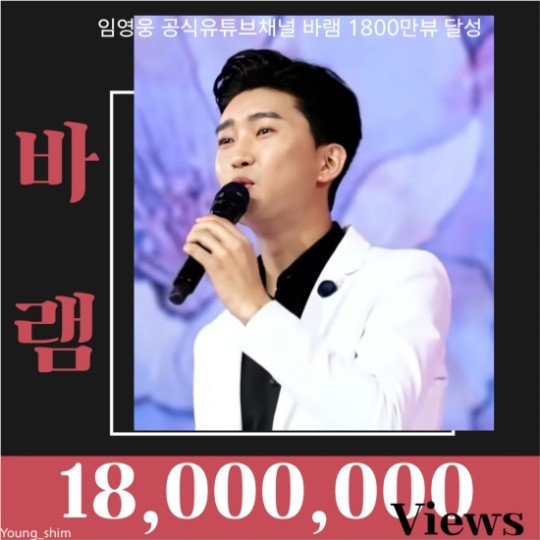 'Mr. Trot' winner Youngwoong Lim's 'Wish' performance video continues to gain popularity.
In January 2020, Youngwoong's official YouTube channel 'Lim Youngwoong' posted a video titled 'Wish.'
His extraordinary singing ability and visuals caught the attention of fans and netizens.
Accordingly, the video exceeded 18 million views as of January 23.
These records show his extraordinary popularity.
Kpop singer Youngwoong Lim ranked the most in the idol chart rating ranking in the second week of January.
According to the idol chart, Youngwoong scored the most votes in the rating ranking from January 14 to January 20.
As a result, Youngwoong topped the idol chart rating ranking for 43 consecutive weeks.
Youngwoong also received 62,990, the largest number in 'Like,' which can gauge the actual size of fandom for stars.
Read More About: Ailee Releases 'Under The Oak Tree' OST 'Nobody Else' Today!
best Kpop girl group
,
best kpop news site
,
best kpopstar
,
breaking news kpop
,
daily kpop news
,
Fandom
,
Hip-hop Idol JIN
,
Jin
,
JIN news
,
Jinwoo Kim
,
Korean celeb news
,
Korean singer
,
Korean singer songwriter
,
KPOP
,
Kpop album
,
Kpop beauty routine
,
Kpop boy group
,
kpop celebrity news
,
Kpop chart and news
,
Kpop colllaboration
,
KPOP comeback
,
Kpop current news
,
kpop daily news
,
Kpop fashion
,
Kpop girls group
,
kpop group winner
,
kpop idol JIN
,
Kpop idols
,
Kpop issues
,
Kpop latest news
,
Kpop music chart
,
Kpop news
,
Kpop news articles
,
Kpop news sites
,
kpop news update
,
Kpop recent news
,
Kpop skin care routine
,
Kpop skincare routine
,
KPop trending news
,
KPOPNEWS
,
minho song
,
Seunghoon Lee
,
Seungyoon Kang
,
Singer JIN
,
South Korean singer songwriter
,
the best kpop girl group
,
the best kpop girl group of 2021
,
the best kpop group of 2021
,
the top kpop group
,
top kpop boy group
,
top kpop girl group
,
WINNER
,
WINNER members