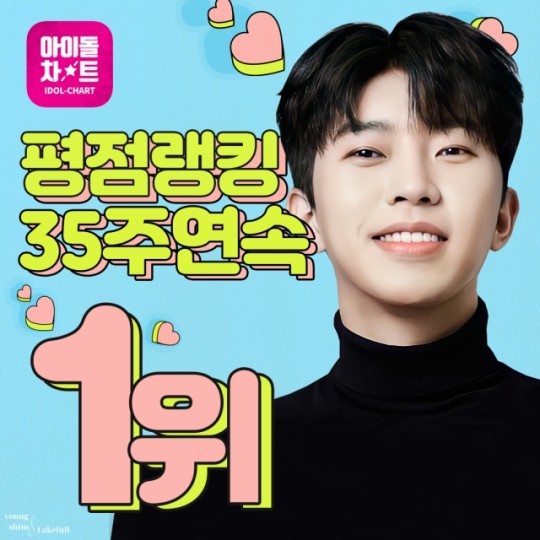 Kpop singer Youngwoong Lim has been at the top of the idol chart for a whopping 35 weeks. So, he is continuing an amazing momentum.
According to the Idol Chart on November 26, in the rating rankings compiled from November 19 to 25, Youngwoong Lim took first place with 609,117 votes. In 'Like,' which can measure the size of the actual fandom for a star, Youngwoong received the highest number of 59,730.
Not only did he rise in 1st place, but he also showed a significant gap from the rankings. Hojung Kim, who came in second place, has 333,781 votes, followed by Chanwon Lee with 288,527 votes, Young Tak with 69,399 votes, and BTS Jimin with 36,588 votes.
Earlier, Youngwoong Lim ranked first in the brand reputation of singers, trots, and stars in October. The Korea Corporate Reputation Research Institute announced the ranking. And Youngwoong achieved three recognitions.
We can confirm Youngwoong's hot popularity by the number of views of various music videos and song video clips. The soundtrack of Youngwoong's first drama OST, 'Love Always Runs Away,' released recently, has surpassed 9 million views. This video, posted on Youngwoong's official YouTube channel 'Lim Youngwoong' on October 11, received much love from fans. It increases the immersion of the drama.
Meanwhile, the video of 'Affection' performed by Kpop singer Youngwoong Lim on TV Chosun's 'Taste of Mr. Trot' surpassed 8 million views. The video posted on the YouTube channel 'Lim Youngwoong' on March 28 last year showed Youngwoong singing in 'The Taste of Mr. Trot' passionately. At the time, host Sungjoo Kim explained in the broadcast, "The song that I couldn't sing even in second life and Youngwoong's second favorite song is Woocheol Park's 'Affection.' Also, Youngwoong Lim's fans strongly recommended it as the winning song."
Read More About: NU'EST Offline Concert Starts Today!
agust d
,
best Kpop girl group
,
best kpop news site
,
best kpopstar
,
breaking news kpop
,
BT21
,
BTS
,
BTS Army
,
BTS BILLBOARD
,
bts butter
,
BTS fancam
,
BTS I'll Be Missing You
,
BTS J-Hope
,
bts jimin
,
bts Jungkook
,
BTS member
,
bts member Jimin
,
BTS member V
,
BTS Members
,
BTS News
,
BTS recent news
,
BTS routine
,
BTS solo songs
,
bts suga
,
BTS trending news
,
BTS UPDATES
,
BTS V
,
daily kpop news
,
Fandom
,
Filter
,
J-hope
,
JIMIN
,
Jin
,
JUNGKOOK
,
Korean celeb news
,
Korean singer
,
Korean singer songwriter
,
KPOP
,
Kpop album
,
Kpop beauty routine
,
Kpop boy group
,
KPOP BTS
,
kpop celebrity news
,
Kpop chart and news
,
Kpop colllaboration
,
KPOP comeback
,
Kpop current news
,
kpop daily news
,
Kpop fashion
,
Kpop girls group
,
Kpop idols
,
Kpop issues
,
Kpop latest news
,
Kpop music chart
,
Kpop news
,
Kpop news articles
,
Kpop news sites
,
kpop news update
,
Kpop recent news
,
Kpop skin care routine
,
Kpop skincare routine
,
KPop trending news
,
KPOPNEWS
,
permission to dance
,
RM
,
Run BTS
,
South Korean singer songwriter
,
SUGA
,
TAEHYUNG KIM
,
the best kpop girl group
,
the best kpop girl group of 2021
,
the best kpop group of 2021
,
the top kpop group
,
top kpop boy group
,
top kpop girl group
,
V
,
weverse magazine