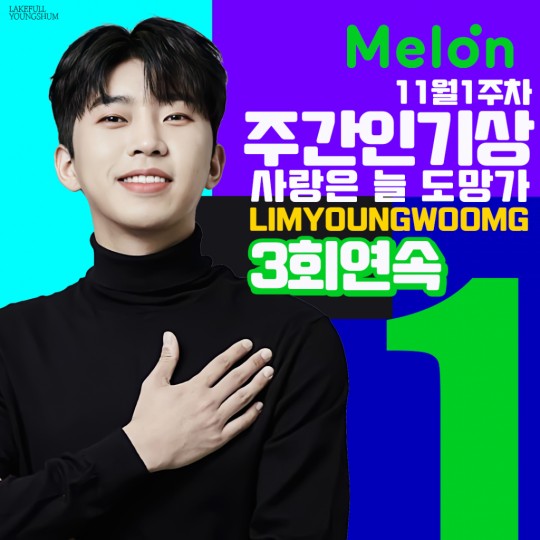 Kpop singer Youngwoong Lim proved his hot popularity by taking the top spot in the Top 20 for three consecutive weeks at the Melon Weekly Popularity Award, the largest music platform in Korea. Youngwoong Lim took first place in the TOP 20 of the Melon Weekly Popularity Awards in the 1st week of November with 'Love always runs away.'
It is the 3rd week in a row, following the 3rd and 4th week of October.
'Love Always Runs Away' scored a total of 69.0 points, ranking first in the vote (44.8 points) and 11th in the weekly chart (24.2 points).
Following Youngwoong Lim, IU ranked second with 'Strawberry Moon' (34.7 points in third place + 39.3 points in the weekly chart, 64.0 points in total). Then, Coldplay and BTS's 'My Universe' ranked third (21.6 points in second place + 25.3 points in the weekly chart, a total of 56.9 points).
Kpop singer Youngwoong Lim is cruising in popularity by dominating various music charts with 'Love Always Runs Away' with the support of his fans.
Read More About: Melon Music Awards 2021 Launches TOP10 Voting & Voting By Category
actress IU
,
agust d
,
best Kpop girl group
,
best kpop news site
,
best kpopstar
,
breaking news kpop
,
BT21
,
BTS
,
BTS Army
,
BTS BILLBOARD
,
bts butter
,
BTS fancam
,
BTS I'll Be Missing You
,
BTS J-Hope
,
bts jimin
,
bts Jungkook
,
BTS member
,
bts member Jimin
,
BTS member V
,
BTS Members
,
BTS News
,
BTS recent news
,
BTS routine
,
BTS solo songs
,
bts suga
,
BTS trending news
,
BTS UPDATES
,
BTS V
,
daily kpop news
,
Fandom
,
Filter
,
IU
,
IU news
,
iu songs
,
iu tv
,
IU updates
,
iu works
,
J-hope
,
Jieun Lee
,
JIMIN
,
Jin
,
JUNGKOOK
,
Korean celeb news
,
Korean singer
,
Korean singer songwriter
,
KPOP
,
Kpop album
,
Kpop beauty routine
,
Kpop boy group
,
KPOP BTS
,
kpop celebrity news
,
Kpop chart and news
,
Kpop colllaboration
,
KPOP comeback
,
Kpop current news
,
kpop daily news
,
Kpop fashion
,
Kpop girls group
,
Kpop idols
,
Kpop issues
,
Kpop IU
,
Kpop latest news
,
Kpop music chart
,
Kpop news
,
Kpop news articles
,
Kpop news sites
,
kpop news update
,
Kpop recent news
,
Kpop skin care routine
,
Kpop skincare routine
,
KPop trending news
,
KPOPNEWS
,
permission to dance
,
RM
,
Run BTS
,
singer IU
,
South Korean singer songwriter
,
SUGA
,
TAEHYUNG KIM
,
the best kpop girl group
,
the best kpop girl group of 2021
,
the best kpop group of 2021
,
the top kpop group
,
top kpop boy group
,
top kpop girl group
,
V
,
weverse magazine