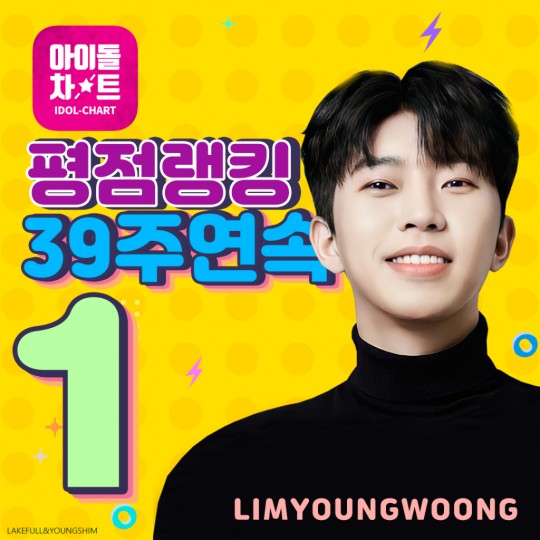 Kpop singer Youngwoong Lim took the top spot for 39 weeks in a row on the idol chart ratings, highlighting his 'best star' aspect.
Youngwoong took first place with 642,589 votes in the rating rankings for the 3rd week of December on the idol charts compiled from December 16 to December 23.
In fact, Youngwoong stays on the top rank in the idol chart rating rankings for 39 weeks in a row.
Kpop singer Youngwoong Lim received the most likes with 64,511, which can measure the actual size of the fandom for a star.
Youngwoong, with the love and support of the fans, continued to take first place in various surveys and rankings this year, illuminating his 'Number One' aspect.
Meanwhile, Youngwoong Lim dazzled the year-end awards ceremony by winning two awards at the 2021 Melon Music Awards and four awards at the 2021 Asia Artist Awards.
Following the KBS solo show 'We're HERO Lim Youngwoong,' which will air on December 26, Youngwoong will appear in the MBC Gayo Daejejeon on December 31, ending a hot year in a splendidly.
Read More About: IU Donates 100 Million Won To Low-Income Families To Celebrate The End Of The Year
2021 kpop news
,
2021 kpop news updates
,
best kpop news site
,
breaking news kpop
,
daily kpop news
,
Korean celeb news
,
KPOP
,
Kpop artist
,
kpop celebrity news
,
Kpop chart and news
,
Kpop current news
,
kpop daily news
,
Kpop idols
,
Kpop latest news
,
Kpop news
,
Kpop news articles
,
Kpop news sites
,
kpop news update
,
Kpop recent news
,
KPop treasure
,
Kpop trend
,
Kpop trending
,
KPop trending news
,
Kpop trending now
,
kpop trending update
,
KPOP2021
,
KPOPIDA
,
KPOPNEWS
,
Trending
,
trending 2021
,
trending kpop
,
Trending Kpop news
,
trending kpop update
,
trending news
,
trending update kpop