Kpop singer Youngwoong Lim shows his amazing popularity with the love and support of 'Age of Hero (fandom).'
Youngwoong Lim's YouTube channel has reached 1.25 billion views, proving its popularity.
Youngwoong Lim's official YouTube channel with 1.29 million subscribers exceeded 1.25 billion views on February 20. On February 14, after reaching 1.24 billion views, he wrote a new record in 6 days. Youngwoong's official YouTube channel has recently increased its views by 10 million in an average of 6 days. It is rapidly accelerating in popularity with the fans' strong support.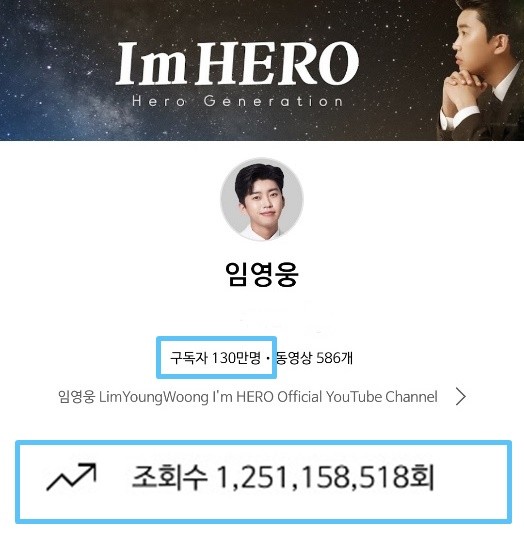 Even after reaching 1.24 billion views, the dazzling record streak continued.
Youngwoong Lim's emotional performances such as 2 million views of 'Stand-Up Bar,' 3 million views of 'Sad Fate,' and 7 million views of 'A Thousand Winds' broke records. The music video of 'Ttara Ttara' exceeded 4 million views and the video of the 'Romantic Call Centre' performance reached 8 million views, marking a double celebration.
Kpop singer Youngwoong Lim's performance video, shown in Mr. Trot, recorded 10 million views. Then, Youngwoong's 'Sudden Rain' surpassed 10 million views and continued to be on the milestone. Also, the songs 'Two Fists' recorded 12 million views, and the 'Music Is My Life' performance video recorded 14 million views.
Youngwoong Lim's first OST since his debut and the representative ballad rock, the music video of 'Love Always Runs Away' has achieved a new record of 23 million views.
Also, the music video of 'My Starry Love' surpassed 49 million views and is on the verge of reaching 50 million views.
You Might Also Like:
KPOP
,
Kpop artist
,
kpop celebrity news
,
Kpop idols
,
Kpop latest news
,
Kpop news
,
Kpop recent news
,
Kpop singer Youngwoong Lim
,
Kpop trend
,
Kpop trending
,
KPop trending news
,
Kpop trending now
,
kpop trending update
,
KPOP YOUNGWOONG LIM
,
KPOPIDA
,
KPOPNEWS
,
lim youngwoong
,
lim youngwoong blank
,
singer Youngwoong Lim
,
Trending
,
trending kpop
,
Trending Kpop news
,
trending kpop update
,
trending news
,
trending update kpop
,
Youngwoong
,
youngwoong lim
,
youngwoong lim kpop
,
Youngwoong Lim News
,
Youngwoong Lim singer
,
youngwoong lim youtube
,
YOUNGWOONG LIM_BK LOVE
,
youngwoong lim_like a fool