Kpop singer Youngwoong Lim lit up his dazzling presence by ranking top 2 on YouTube Music views as of January 7.
According to YouTube music charts and statistics on January 25, Youngwoong took the top 2 with 13.4 million views on YouTube music views in Korea on January 7.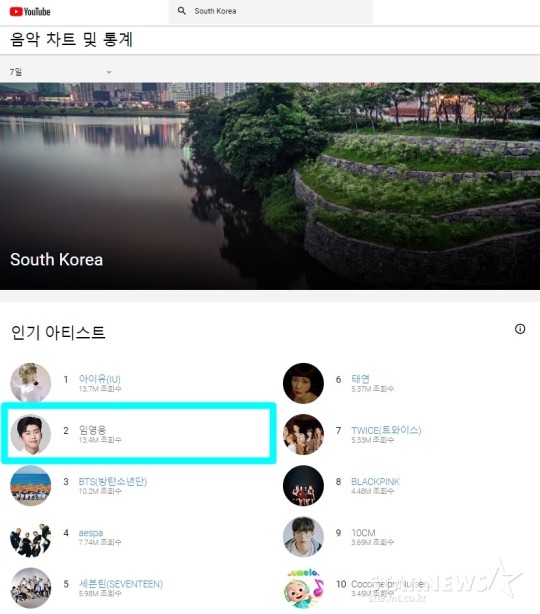 1st place was IU with 13.7 million views, showing a difference of only about 300,000 views from Youngwoong Lim.
Following Youngwoong, BTS is in 3rd place with 10.2 million views, AESPA at 4th with 7.74 million views, SEVENTEEN at 5th with 5.98 million views, TAEYEON at 6th with 5.37 million views, TWICE at 7th with 5.33 million views, BLACKPINK at 8th with 4.48 million views, 10CM at 9th with 3.69 million views, and Cocomelon – Nursery Rhymes at 10th with 3.45 million views.
In addition to the number of views on the last 7 days, Youngwoong Lim recorded the top 2 in the number of views on the last 28 days and 90 days. In the last 12 months, it ranked top 3 with BTS and IU in the number of views.
Youngwoong's music video, audio-video, and lyrics video, related to his first OST, 'Love Always Runs Away,' released in October last year, achieved a total of 34 million views on January 24.
Meanwhile, Youngwoong Lim was the best superstar at the end of last year by winning four grand prizes. It includes the grand prize at the 2021 Asia Artist Awards and the top 10 at the 2021 Melon Music Awards. Youngwoong made it clear that he is the most popular in the Korean music industry. In the new year, he also added trophies from the Golden Disc Awards, Hanteo Music Awards, and Seoul Music Awards. So, he achieved 12 awards at the year-end and New Year awards ceremony, showing his top star appearance.
In addition to his popularity, good deeds also add to Lim's presence. The fact that Youngwoong quickly responded at the traffic accident scene and gave great help to an emergency patient through CPR continued to receive praises.
Kpop singer Youngwoong Lim plans to release his first full-length album in the first half of this year, increasing his popularity.
Read More About: Nayoung Kim Releases 'Press' Teaser Video
10cm
,
10CM Band
,
10CM news
,
2022 kpop trending
,
2022 kpop updates
,
2022 latest news
,
4+1 project
,
actress IU
,
AESPA
,
aespa kpop
,
AESPA members
,
agust d
,
Americano
,
best Kpop girl group
,
best kpop news site
,
best kpopstar
,
Black Mamba
,
Blackpink
,
blackpink Jisoo
,
blackpink member
,
blackpink members
,
Blackpink news
,
BLACKPINK: The Movie
,
breaking news kpop
,
BT21
,
BTS
,
BTS Army
,
BTS BILLBOARD
,
bts butter
,
BTS fancam
,
BTS I'll Be Missing You
,
BTS J-Hope
,
bts jimin
,
bts Jungkook
,
BTS member
,
bts member Jimin
,
BTS member V
,
BTS Members
,
BTS News
,
BTS recent news
,
BTS routine
,
BTS solo songs
,
bts suga
,
BTS trending news
,
BTS UPDATES
,
BTS V
,
daily kpop news
,
DK
,
Fandom
,
Filter
,
Giselle
,
History Live
,
Hoshi
,
How you like that
,
IU
,
IU news
,
iu songs
,
iu tv
,
IU updates
,
iu works
,
J-hope
,
Jennie
,
Jieun Lee
,
JIMIN
,
Jin
,
Jisoo
,
JUNGKOOK
,
Jungyeol Kwon
,
Karina
,
Korean celeb news
,
Korean singer
,
Korean singer songwriter
,
KPOP
,
kpop 10cm
,
Kpop 10CM news
,
kpop 2022
,
KPOP 2022 NEWS
,
kpop aespa
,
kpop AESPA news
,
Kpop album
,
Kpop beauty routine
,
kpop blackpink
,
Kpop boy group
,
KPOP BTS
,
kpop celebrity news
,
Kpop chart and news
,
Kpop colllaboration
,
KPOP comeback
,
Kpop current news
,
kpop daily news
,
Kpop fashion
,
Kpop girls group
,
kpop group AESPA
,
kpop group SEVENTEEN
,
Kpop idols
,
Kpop issues
,
Kpop IU
,
Kpop latest news
,
Kpop music chart
,
Kpop news
,
Kpop news articles
,
Kpop news sites
,
kpop news update
,
Kpop recent news
,
kpop seventeen
,
Kpop skin care routine
,
Kpop skincare routine
,
KPop trending news
,
KPOPNEWS
,
Lisa
,
Love To Hate Me
,
Next Level
,
Ningning
,
permission to dance
,
Pop-up exhibition
,
ready to love
,
RM
,
Rosé
,
Run BTS
,
Seungkwan
,
Seventeen
,
SEVENTEEN members
,
singer IU
,
Sleepless In Seoul
,
South Korean singer songwriter
,
SUGA
,
TAEHYUNG KIM
,
The Album
,
the best kpop girl group
,
the best kpop girl group of 2021
,
the best kpop group of 2021
,
the top kpop group
,
top kpop boy group
,
top kpop girl group
,
V
,
Vernon
,
weverse magazine
,
Winter
,
Wonwoo
,
Woozi
,
YG entertainment