Kpop singer Youngwoong Lim's 'My Starry Love' ranked 3rd on YouTube's weekly popular music video chart in Korea.
According to the YouTube music chart from September 10th to 16th, Youngwoong Lim's 'My Starry Love' topped the popular music video charts list.
The YouTube Music Popular Music Video Chart is a chart that shows the ranking of the most played music videos in the past week.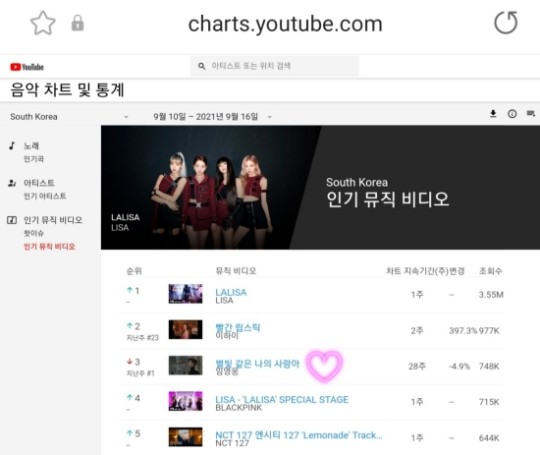 In these charts, Kpop singer Youngwoong Lim ranked 3rd overall and 1st in the trot category.
These rankings show his extraordinary popularity.
Meanwhile, the top 6 of 'Mr. Trot,' including Youngwoong Lim, recently donated.
On September 14th, the New Era Project said, "On September 13th, we delivered a donation of 100 million won in the name of Mr. Trot TOP6 and fans to the Department of Otolaryngology, Yonsei University Medical School."
The donations to the medical school will fund otolaryngology research purposes. Due to the nature of the job of Mr. Trot TOP6, it is necessary to pay close attention to major body organs such as the nose, throat, and ears. So, they decided to donate for the development of otolaryngology.
Read More About: MAKTUB To Make A Comeback Today With 'The Eternal Moment'
2021 kpop news
,
2021 kpop news updates
,
2021 news kpop
,
best kpop news site
,
daily kpop news
,
Korean celeb news
,
KPOP
,
Kpop 2021
,
Kpop artist
,
Kpop artists
,
kpop celebrity news
,
kpop daily news
,
Kpop idols
,
Kpop latest news
,
Kpop news
,
Kpop recent news
,
Kpop trend
,
Kpop trending
,
KPop trending news
,
Kpop trending now
,
KPOP YOUNGWOONG LIM
,
KPOP2021
,
Kpopall
,
KPOPIDA
,
KPOPNEWS
,
Kpopnews 2021
,
Kpopnews2021
,
latest kpop news
,
Lim nayoung
,
lim wyoungwoong
,
Lim Young Woong
,
lim youngwoong
,
lim youngwoong blank
,
mr. tror young woong lim
,
recent kpop news
,
Trending
,
trending 2021
,
trending kpop
,
Trending Kpop news
,
trending kpop update
,
trending news
,
trending update kpop
,
young woong Lim
,
Youngwoong
,
youngwoong lim kpop
,
youngwoong lim youtube
,
YOUNGWOONG LIM_BK LOVE
,
youngwoong lim_like a fool