Kpop singer Youngwoong Lim ranked 2nd on the YouTube Music views in the last 7 days and shined a special presence in the new year.
According to YouTube music charts and statistics on February 1, Youngwoong recently ranked in the top 2 with 12.6 million views on YouTube music in Korea in the last 7 days.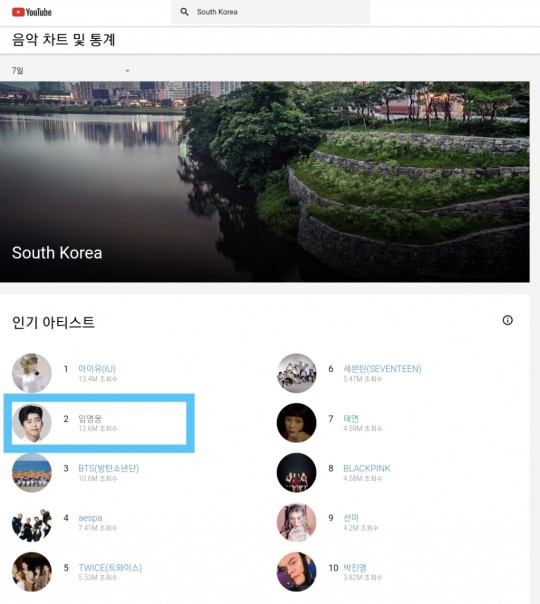 The 1st place goes to IU with 13.4 million views, then followed by Youngwoong Lim at 2nd and BTS at 3rd place with 10.6 million views.
The ranking includes AESPA at 4th place with 7.41 million views, TWICE at 5th with 5.53 million views, SEVENTEEN at 6th place with 5.47 million views, TAEYEON at 7th place with 4.59 million views, BLACKPINK at 8th place with 4.58 million views, Sunmi at 9th place with 4.2 million views, and Jinyoung Park at 10th place with 3.82 million views.
Kpop singer Youngwoong Lim also recorded the top 2 in the number of views on the last 28 days and the last 90 days. In the last 12 months, he ranked top 3 along with BTS and IU.
Meanwhile, Youngwoong achieved 13 awards at the year-end and New Year awards ceremonies. He brightened his presence as a top star. Also, he gave warmth as he saved a patient's life in a recent car accident.
Read More About: BTS V, 'The King Of Fancam' For 3 Consecutive Years!
1-Jun
,
4+1 project
,
actress IU
,
AESPA
,
aespa kpop
,
AESPA members
,
agust d
,
best Kpop girl group
,
best kpop news site
,
best kpopstar
,
Black Mamba
,
Blackpink
,
blackpink Jisoo
,
blackpink member
,
blackpink members
,
Blackpink news
,
BLACKPINK: The Movie
,
breaking news kpop
,
BT21
,
BTS
,
BTS Army
,
BTS BILLBOARD
,
bts butter
,
BTS fancam
,
BTS I'll Be Missing You
,
BTS J-Hope
,
bts jimin
,
bts Jungkook
,
BTS member
,
bts member Jimin
,
BTS member V
,
BTS Members
,
BTS News
,
BTS recent news
,
BTS routine
,
BTS solo songs
,
bts suga
,
BTS trending news
,
BTS UPDATES
,
BTS V
,
daily kpop news
,
DK
,
Fandom
,
Filter
,
Gashina
,
Giselle
,
Hip-hop Idol JIN
,
Hoshi
,
How you like that
,
IU
,
IU news
,
iu songs
,
iu tv
,
IU updates
,
iu works
,
J-hope
,
Jennie
,
Jieun Lee
,
JIMIN
,
Jin
,
JIN news
,
Jisoo
,
JUNGKOOK
,
Karina
,
Korean celeb news
,
Korean singer
,
Korean singer songwriter
,
KPOP
,
kpop aespa
,
kpop AESPA news
,
Kpop album
,
Kpop beauty routine
,
kpop blackpink
,
Kpop boy group
,
KPOP BTS
,
kpop celebrity news
,
Kpop chart and news
,
Kpop colllaboration
,
KPOP comeback
,
Kpop current news
,
kpop daily news
,
Kpop fashion
,
Kpop girls group
,
kpop group AESPA
,
kpop group SEVENTEEN
,
kpop idol JIN
,
Kpop idols
,
Kpop issues
,
Kpop IU
,
Kpop latest news
,
Kpop music chart
,
Kpop news
,
Kpop news articles
,
Kpop news sites
,
kpop news update
,
Kpop recent news
,
kpop seventeen
,
Kpop skin care routine
,
Kpop skincare routine
,
kpop sunmi
,
KPop trending news
,
KPOPNEWS
,
Lisa
,
Love To Hate Me
,
Next Level
,
Ningning
,
permission to dance
,
Pop-up exhibition
,
ready to love
,
RM
,
Rosé
,
Run BTS
,
Seungkwan
,
Seventeen
,
SEVENTEEN members
,
singer IU
,
Singer JIN
,
Singer Sunmi
,
South Korean singer songwriter
,
SUGA
,
Sunmi
,
sunmi kpop
,
Sunmi Lee
,
Sunmi songs
,
TAEHYUNG KIM
,
Tail
,
The Album
,
the best kpop girl group
,
the best kpop girl group of 2021
,
the best kpop group of 2021
,
the top kpop group
,
top kpop boy group
,
top kpop girl group
,
V
,
Vernon
,
WARNING
,
weverse magazine
,
Winter
,
Wonder girls
,
Wonwoo
,
Woozi
,
YG entertainment