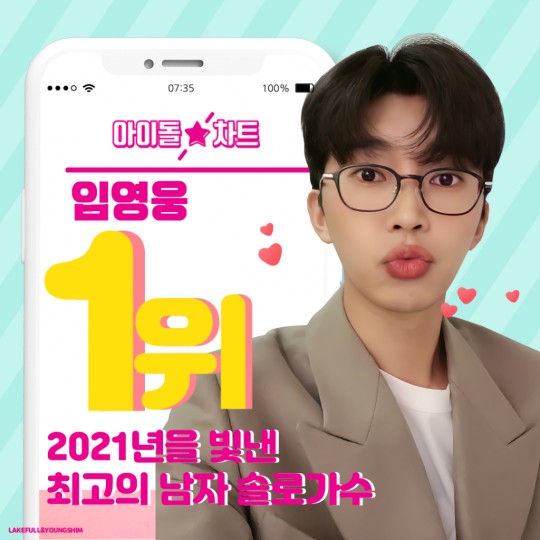 Kpop singer Youngwoong Lim took 1st place on 'The Best Male Solo Singer of 2021.'
Youngwoong ranked 1st in 'The Best Male Solo Singer in 2021' survey held by Idol Chart from December 13 to December 19.
Youngwoong took the overwhelming first place with 567,749 votes, 65% of the total votes cast out of 87,719 votes.
Meanwhile, Youngwoong received a lot of love this year and heated up the year-end awards ceremonies. He won 4 awards including the 2021 Asia Artist Awards Grand Prize and two awards, including the 2021 Melon Music Awards Top 10.
Kpop singer Youngwoong Lim wraps up 2021 in a splendid way with the KBS year-end special show 'We're HERO Lim Youngwoong,' which will air on December 26.
Read More About: Kpop Band 9001 (Ninety O One) Successfully Finished Its 5th Concert + New Song Release On January 24 Next Year
2021 kpop news
,
2021 kpop news updates
,
2021 news kpop
,
best kpop news site
,
breaking news kpop
,
daily kpop news
,
Korean celeb news
,
KPOP
,
Kpop artist
,
Kpop artists
,
kpop celebrity news
,
Kpop chart and news
,
kpop daily news
,
Kpop idols
,
Kpop latest news
,
Kpop news
,
Kpop news articles
,
Kpop news sites
,
kpop news update
,
Kpop recent news
,
Kpop trend
,
Kpop trending
,
KPop trending news
,
Kpop trending now
,
kpop trending update
,
KPOP YOUNGWOONG LIM
,
KPOP2021
,
KPOPIDA
,
KPOPNEWS
,
lim youngwoong
,
lim youngwoong blank
,
Trending
,
trending 2021
,
trending kpop
,
Trending Kpop news
,
trending kpop update
,
trending news
,
trending update kpop
,
Youngwoong
,
youngwoong lim
,
youngwoong lim kpop
,
Youngwoong Lim News
,
youngwoong lim youtube
,
YOUNGWOONG LIM_BK LOVE
,
youngwoong lim_like a fool