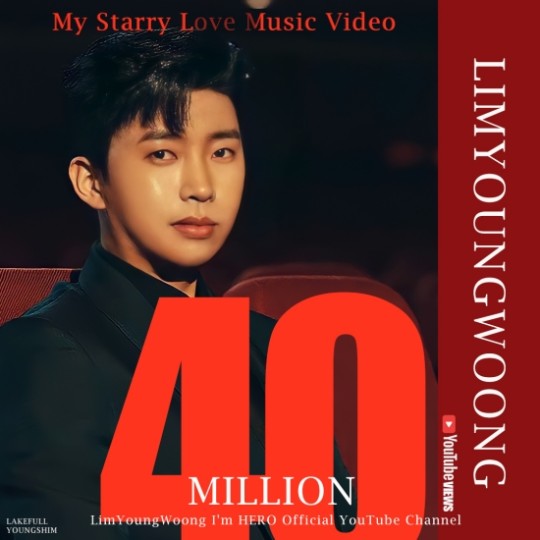 Kpop singer Youngwoong Lim's 'My Starry Love' music video has surpassed 40 million views.
As of October 25, Youngwoong Lim's official music video for 'My Starry Love' has surpassed 40 million views.
These records show his extraordinary popularity.
In addition, upon achieving a record of 40 million views, fans are continuing to celebrate.
'My Starry Love' is a song that calmly expresses the love of the person who has been by your side for a long time.
This song is a self-composed song that Seol Undo, a 'Trot Legend,' gave as a special gift to Youngwoong Lim. Seol Undo said, "Only Youngwoong can perfectly express this song."
Also, it is unusual for a trot song to be mastered by the world-famous engineer Stuart Hawkes of 'Metropolis Studio' in England, who was in charge of mastering songs for Monthly Jongshin Yoon, Amy Winehouse, and Ed Sheeran. He created the song richer for Kpop singer Youngwoong Lim.
Read More About: AESPA & AKMU, Nominees For 1st Place On This Week's 'Inkigayo'
2021 kpop news
,
2021 kpop news updates
,
2021 kpop updates
,
2021 news kpop
,
best kpop news site
,
daily kpop news
,
Korean celeb news
,
KPOP
,
Kpop 2021
,
Kpop artist
,
Kpop artists
,
kpop celebrity news
,
kpop daily news
,
Kpop idols
,
Kpop latest news
,
Kpop news
,
Kpop recent news
,
Kpop singer Young Tak
,
Kpop trend
,
Kpop trending
,
KPop trending news
,
Kpop trending now
,
KPOP YOUNGWOONG LIM
,
KPOP2021
,
Kpopall
,
KPOPIDA
,
KPOPNEWS
,
Kpopnews 2021
,
Kpopnews2021
,
latest kpop news
,
lim youngwoong
,
recent kpop news
,
trending kpop
,
Trending Kpop news
,
trending kpop update
,
trending news
,
trending update kpop
,
young tak kpop
,
young woong Lim
,
Youngwoong
,
youngwoong lim kpop
,
youngwoong lim youtube
,
YOUNGWOONG LIM_BK LOVE
,
youngwoong lim_like a fool