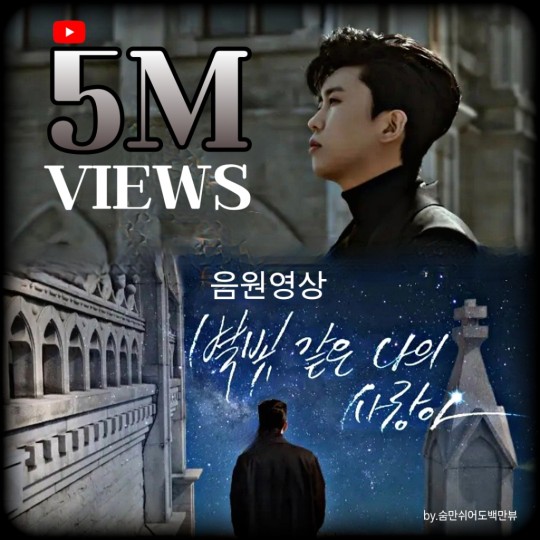 The music video of Kpop singer Youngwoong Lim's 'My Starry Love' hits 5 million views, proving its hot popularity.

The 'My Starry Love' music video released on Youngwoong Lim's official YouTube channel on March 9 has exceeded 5 million views on November 25.

'My Starry Love,' released on March 9, ranked on various music charts. It continues to be popular until now after its release nine months ago. Also, it is a song that gave Kpop singer Youngwoong Lim the record of being the No. 1 on music shows .

The music video also recorded 4.289 million views as of 6:00 pm, on November 25, and achieved 5 million views later on.


Read More About: Cignature Reveals 2nd MV Teaser For New Song 'Boyfriend'
2021 kpop news
,
2021 kpop news updates
,
2021 news kpop
,
best kpop news site
,
daily kpop news
,
Korean celeb news
,
KPOP
,
Kpop 2021
,
Kpop artist
,
Kpop artists
,
kpop celebrity news
,
Kpop chart and news
,
kpop daily news
,
Kpop idols
,
Kpop latest news
,
Kpop news
,
Kpop news articles
,
kpop news update
,
Kpop recent news
,
KPop treasure
,
Kpop trend
,
Kpop trending
,
KPop trending news
,
Kpop trending now
,
kpop trending update
,
KPOP2021
,
KPOPIDA
,
KPOPNEWS
,
Kpopnews 2021
,
recent kpop news
,
Trending
,
trending 2021
,
trending kpop
,
Trending Kpop news
,
trending kpop update
,
trending news
,
trending update kpop