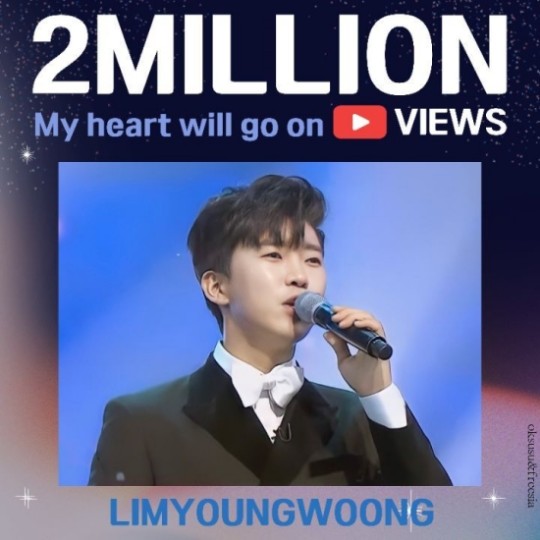 Kpop singer Youngwoong Lim's 'My Heart Will Go On' performance video continues to gain popularity.
In June 2020, Youngwoong posted a video titled 'Youngwoong Lim [My heart will go on] Romantic Call Centre' on his official YouTube channel.
In the video, he is singing the Titanic OST 'My heart will go on.'
Youngwoong Lim perfectly expressed a non-trot song. His solid vocals were enough to attract the attention of viewers and netizens.
As of January 31, the number of views exceeded 2 million views.
These records prove his extraordinary popularity.
Meanwhile, Youngwoong Lim became the 18th charity angel in the celebrity popularity ranking service 'My Love Celebs,' Choi Aedol Celebrity.'
It is the result of 100% fan voting.
Also, Kpop singer Youngwoong ranked first in the overall cumulative ranking. In fact, he received 3000 out of 3000 points and showed unfading popularity.
'My Love Celebs' selects as a charity angel to donate and advertise on the subway CM board if an idol achieves 1-5th place after counting the cumulative score including voting results by the 5th of each month, or wins the first place in each category with an average votes of 3 million or more.
Read More About: Super Junior Kyuhyun Presents His New Song 'Love Story'
2022 kpop trending
,
2022 kpop updates
,
2022 latest news
,
best kpop news site
,
breaking news kpop
,
daily kpop news
,
Korean celeb news
,
KPOP
,
kpop 2022
,
KPOP 2022 NEWS
,
Kpop artist
,
Kpop artists
,
kpop celebrity news
,
Kpop chart and news
,
Kpop current news
,
kpop daily news
,
Kpop idols
,
Kpop latest news
,
Kpop news
,
Kpop news articles
,
Kpop news sites
,
kpop news update
,
Kpop recent news
,
Kpop singer Youngwoong Lim
,
Kpop trend
,
Kpop trending
,
KPop trending news
,
Kpop trending now
,
kpop trending update
,
KPOP YOUNGWOONG LIM
,
KPOPIDA
,
KPOPNEWS
,
lim youngwoong
,
lim youngwoong blank
,
Trending
,
trending kpop
,
Trending Kpop news
,
trending kpop update
,
trending news
,
trending update kpop
,
Youngwoong
,
youngwoong lim
,
youngwoong lim kpop
,
Youngwoong Lim News
,
youngwoong lim youtube
,
YOUNGWOONG LIM_BK LOVE
,
youngwoong lim_like a fool