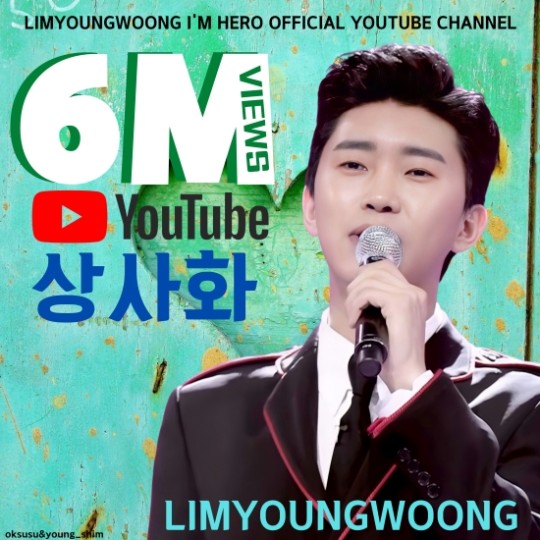 Kpop singer Youngwoong Lim's 'Magic Lily' performance at 'Romantic Call Centre' continues to be popular.
In April 2020, Youngwoong's official YouTube channel 'Lim Youngwoong' posted a video titled 'Lim Youngwoong's Romantic Call Centre [Magic Lily].'
The video shows Youngwoong performing the song, 'Magic Lily.'
His extraordinary singing ability was enough to catch the eyes and ears of fans.
Accordingly, the video surpassed 6 million views as of November 18.
These records show his extraordinary popularity.
Meanwhile, Youngwoong Lim became the charity angel for November on 'Choeaedol.'
In the celebrity popularity ranking service 'My Love Celeb,' Youngwoong topped the overall cumulative ranking of the Hall of Fame. It combines actors, singers, and entertainment categories. This is 100% the result of votes from fans.
Kpop singer Youngwoong Lim scored 2,999 out of 3,000 cumulative points. He did not miss the top spot in November following last month.
The 'My Love Celeb' ranks first to fifth overall after counting cumulative scores including voting results by the 5th of every month, or ranks first in each category with an average of more than 300 million votes. They select a charity angel, donate, and conduct subway CM board advertisements.
Read More About: AESPA Karina Cheers For CSAT Test Takers, "Wish You Good Results"
2021 kpop news
,
2021 kpop news updates
,
2021 news kpop
,
best kpop news site
,
daily kpop news
,
Korean celeb news
,
KPOP
,
Kpop 2021
,
Kpop artist
,
Kpop artists
,
kpop celebrity news
,
kpop daily news
,
Kpop idols
,
Kpop latest news
,
Kpop news
,
Kpop news articles
,
kpop news update
,
Kpop recent news
,
KPop treasure
,
Kpop trend
,
Kpop trending
,
KPop trending news
,
Kpop trending now
,
kpop trending update
,
KPOP2021
,
KPOPIDA
,
KPOPNEWS
,
Kpopnews 2021
,
Kpopnews2021
,
latest kpop news
,
recent kpop news
,
Trending
,
trending 2021
,
trending kpop
,
Trending Kpop news
,
trending kpop update
,
trending news
,
trending update kpop