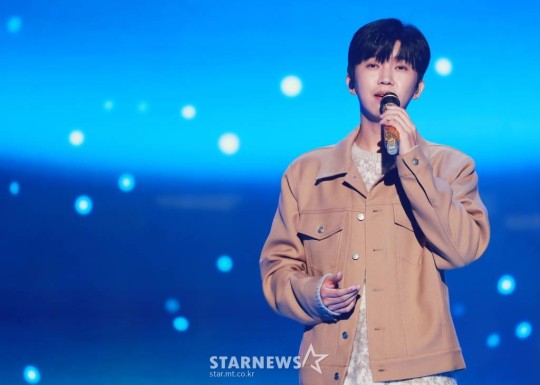 Kpop singer Youngwoong Lim proved his popularity by ranking on two Gaon Charts with 'Love Always Runs Away.'
According to the Korea Music Contents Association, which operates the Gaon chart on December 16, Youngwoong Lim's 'Love Always Runs Away' ranked first on the Gaon Chart for nine weeks in a row.
Youngwoong is writing a brilliant record on the Gaon chart. He ranked on five monthly charts in October and three monthly charts in November with 'Love Always Run Away.'
Meanwhile, 'Love Always Runs Away' is Youngwoong's first OST since his debut. It is the main theme song of the KBS 2TV's weekend drama 'A Young Lady and Gentleman.'
In fact, even before the song's release, it is gaining the keen attention of fans.
After its release, 'Love Always Runs Away' has topped various music charts, including Melon. So, he is showing off his strong music power. 
'Love Always Runs Away' continues to break records on YouTube, showing the power of Youngwoong and his strong supporters.
Kpop singer Youngwoong Lim won the 'Best OST Award' at the 2021 Asia Artist Awards (AAA) for 'Love Always Runs Away.'
Youngwoong Lim will wrap up the year with KBS 2TV's year-end special 'We're HERO Lim Youngwoong,' which airs on December 26.
Read More About: SEVENTEEN Tops Billboard Japan's Weekly Single Sales Chart
2021 kpop news
,
2021 kpop news updates
,
best kpop news site
,
daily kpop news
,
KPOP
,
Kpop 2021
,
Kpop artist
,
Kpop artists
,
kpop celebrity news
,
Kpop idols
,
Kpop latest news
,
Kpop news
,
Kpop news articles
,
kpop news daily
,
Kpop news sites
,
kpop news update
,
Kpop recent news
,
Kpop singer Youngwoong Lim
,
Kpop trend
,
Kpop trending
,
KPop trending news
,
Kpop trending now
,
KPOP YOUNGWOONG LIM
,
KPOP2021
,
KPOPIDA
,
KPOPNEWS
,
latest kpop news
,
recent kpop news
,
trending kpop
,
Trending Kpop news
,
trending kpop update
,
trending update kpop
,
young woong Lim
,
Youngwoong
,
youngwoong lim
,
youngwoong lim kpop
,
Youngwoong Lim News
,
youngwoong lim youtube
,
YOUNGWOONG LIM_BK LOVE
,
youngwoong lim_like a fool