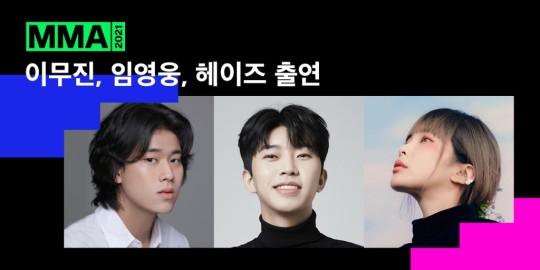 This year, music powerhouses will gather at one place. Kpop singers Youngwoong Lim, Heize, and Mujin Lee, will appear at the Melon Music Awards 2021 (MMA 2021) hosted by Melon, the music platform of Kakao Entertainment (CEO Jinsoo Lee, Seongsoo Kim).
According to Melon, on November 24, the rookie music king Mujin Lee, who is settling in the top spot for each song he released, Heize, who is receiving explosive love with her unique tone and trendy music, and Youngwoong, who shows the best music power regardless of generation, will appear on the 'Melon Music Awards 2021' on December 4.
As of 2021, music fans' expectations will rise further with the trio's MMA appearance, which shows the strongest music power.
Mujin Lee made his name popular by appearing on JTBC's 'Sing Again' last year. He rose to the top of the Melon chart with his own song 'Traffic Light,' released in May this year. Also, he is emerging as a music powerhouse. He set a record for No. 1 on the chart with his debut song. Then, he emerged as the best rookie of the year, topping the chart 26 times with this song alone.
Mujin Lee has continued his momentum singing the drama 'Hospital Playlist Season 2' OST 'Rain and You.'
In fact, this OST ranked at the top of the chart. So, he is gaining the keen attention of fans. Also, fans are curious about what performance he will present as this is his first Melon Music Awards appearance.
Then, Heize is a musician who has been steadily supported by music fans with her unrivaled voice and trendy sensibility. She ranked second in the Melon chart with the title song 'Happy Coincidence' of her seventh mini-album 'Happen,' released in May.
Youngwoong Lim boasts a music power that transcends generations. He ranked ninth in the chart on November 15 with 'Love Always Run Away,' released in October. The song, released as an OST for the drama 'Young Lady and Gentleman,' proved Youngwoong Lim's potential.
In addition to Youngwoong Lim's digital single 'My Starry Love,' released in March, many other songs he released during his appearance in the entertainment program 'Romantic Call Centre' ranked on the chart. It includes 'HERO' and 'Trust In Me.'
Kpop singer IU, dubbed an icon of popular music before Mujin Lee, Heize, and Youngwoong Lim will also appear on MMA 2021 for the first time in four years.
IU will decorate the stage under the theme of 'The Door Connecting the End of 20s and the Beginning of 30s.'
Through this, she will perform with the 8-member band version of her new song, 'Strawberry Moon,' released on October 19.
Meanwhile, the global music festival Melon Music Awards 2021 will be available online from 6 pm on December 4. You can find related events on the Melon app and MMA webpage, Kakao TV's Melon Music Awards 2021 channel, and Melon's social media (Instagram/Twitter/YouTube) accounts.
Read More About: 'Girls Planet 999' Girl Group Kep1er Confirmed To Debut On December 14
actress IU
,
best Kpop girl group
,
best kpop news site
,
best kpopstar
,
breaking news kpop
,
daily kpop news
,
Fandom
,
Hip-hop Idol JIN
,
IU
,
IU news
,
iu songs
,
iu tv
,
IU updates
,
iu works
,
Jieun Lee
,
Jin
,
JIN news
,
Korean celeb news
,
Korean singer
,
Korean singer songwriter
,
KPOP
,
Kpop album
,
Kpop beauty routine
,
Kpop boy group
,
kpop celebrity news
,
Kpop chart and news
,
Kpop colllaboration
,
KPOP comeback
,
Kpop current news
,
kpop daily news
,
Kpop fashion
,
Kpop girls group
,
kpop idol JIN
,
Kpop idols
,
Kpop issues
,
Kpop IU
,
Kpop latest news
,
Kpop music chart
,
Kpop news
,
Kpop news articles
,
Kpop news sites
,
kpop news update
,
Kpop recent news
,
Kpop skin care routine
,
Kpop skincare routine
,
KPop trending news
,
KPOPNEWS
,
singer IU
,
Singer JIN
,
South Korean singer songwriter
,
the best kpop girl group
,
the best kpop girl group of 2021
,
the best kpop group of 2021
,
the top kpop group
,
top kpop boy group
,
top kpop girl group