Kpop singer Young Tak ranked first as a trot star suitable for advertising eco-friendly products.

Recently, Exiting Dish, operated by community portal site DC INSIDE and taste search company My Celebs, announced the results of the voting for 'Trot Stars suitable for advertising eco-friendly product.'
The voting period runs from September 12 to September 18.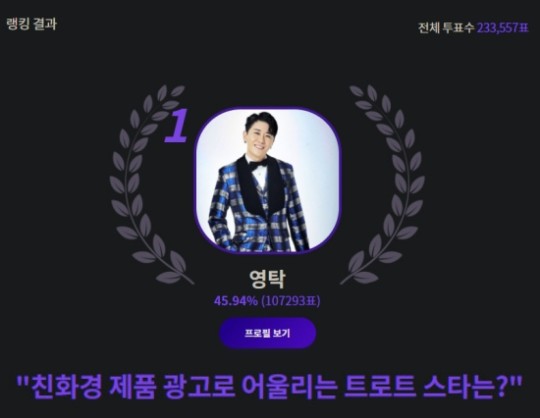 Among the total votes of 233,557, Young Tak received 107,293 votes and took first place. The approval rating is 45.94%.

The result of such voting is a real sense of his popularity.

Earlier, Kpop singer Young Tak rose to fame in TV Chosun's 'Mr. Trot' and established himself as a star representing Korea.

He is leading the K-trot craze by mega hits such as 'Why Are You Coming Out There,' 'Jjinya,' and 'Comforter,' which he released before 'Mr. Trot.'

Read More About: IU Celebrates Her 13th Debut Anniversary Today!
2021 kpop news
,
2021 kpop news updates
,
2021 news kpop
,
best kpop news site
,
daily kpop news
,
Korean celeb news
,
KPOP
,
Kpop 2021
,
Kpop artist
,
Kpop artists
,
kpop celebrity news
,
kpop daily news
,
Kpop idols
,
Kpop latest news
,
Kpop news
,
Kpop recent news
,
Kpop singer Young Tak
,
Kpop trend
,
Kpop trending
,
KPop trending news
,
Kpop trending now
,
kpop young tak
,
KPOP2021
,
Kpopall
,
KPOPIDA
,
KPOPNEWS
,
Kpopnews 2021
,
Kpopnews2021
,
latest kpop news
,
Mr. Trot Young Tak
,
recent kpop news
,
singer young tak
,
trending kpop
,
Trending Kpop news
,
trending kpop update
,
trending news
,
trot singer Young Tak
,
Young Tak
,
young tak kpop
,
Young Tak Park
,
Young Tak songs
,
youngtak