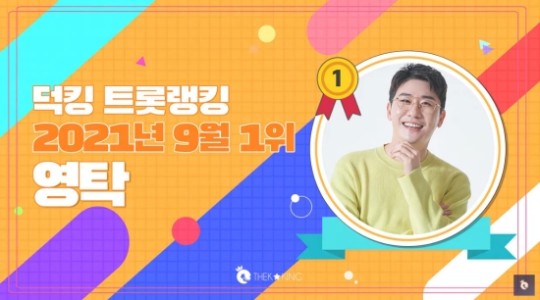 Kpop singer Young Tak took the first place in THEKKING September ranking.
Recently, a video titled "THEKKING September Trotstar #1 [Youngtak] /THEKKKING Sep. Top of the K-Trot Star Ranking [YOUNG TAK]' was published on the THEKKING YouTube channel.
THEKKING said, "My favorite is in Times Square, New York!' Congratulations. Young Tak became the main character in the Trot Star category in September 2021 for THEKKING!" and congratulated him on his 1st place.
This ranking proves Young Tak's unfading popularity.
Meanwhile, Kpop singer Young Tak rose to popularity in TV CHOSUN's 'Ms. Trot' and established himself as a star representing Korea.
He leads the K-trot craze by mega-hits such as 'Why Are You Outh There,' 'Jjiniya,' and 'Comforter,' which he released before joining 'Mr. Trot.'
Read More About: HOT ISSUE To Make Their Comeback Today With 'ICONS
best Kpop girl group
,
best kpop news site
,
best kpopstar
,
breaking news kpop
,
daily kpop news
,
Fandom
,
Korean celeb news
,
Korean singer
,
Korean singer songwriter
,
KPOP
,
Kpop album
,
Kpop beauty routine
,
Kpop boy group
,
kpop celebrity news
,
Kpop chart and news
,
Kpop colllaboration
,
KPOP comeback
,
Kpop current news
,
kpop daily news
,
Kpop fashion
,
Kpop girls group
,
Kpop idols
,
Kpop issues
,
Kpop latest news
,
Kpop music chart
,
Kpop news
,
Kpop news articles
,
Kpop news sites
,
kpop news update
,
Kpop recent news
,
Kpop singer Young Tak
,
Kpop skin care routine
,
Kpop skincare routine
,
KPop trending news
,
KPOPNEWS
,
mr. trot
,
Mr. Trot Concert
,
singer young tak
,
South Korean singer songwriter
,
the best kpop girl group
,
the best kpop girl group of 2021
,
the best kpop group of 2021
,
the top kpop group
,
top kpop boy group
,
top kpop girl group
,
trot singer Young Tak
,
Young Tak
,
Young Tak Park
,
Young Tak songs