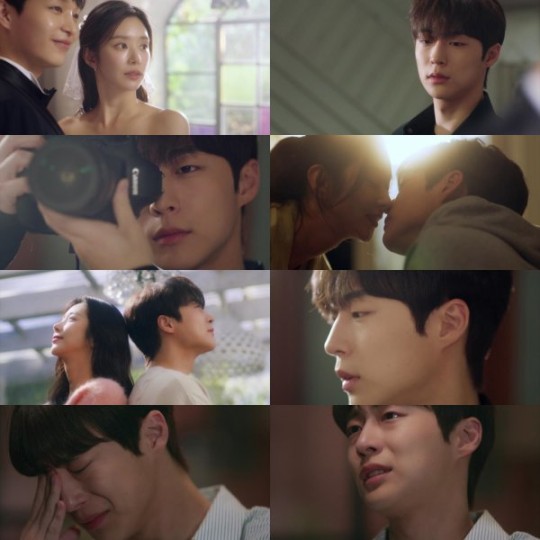 Actor Inhyuk Bae presented a heartbreaking emotional performance in the music video for Kpop singer Yongjae Shin's remake song 'Confession.'
Kpop singer Yongjae Shin's 'Confession,' the last runner in Kakao Entertainment's remake relay 'Confession Project,' released on October 24, topped various music charts. Also, the music video attracts the attention of music fans.
Actor Inhyuk Bae appeared as a former lover with actress Joobin Lee in the music video. Inhyuk appeared as a photographer who took wedding photos of a lover after a breakup. Inhyuk Bae felt embarrassed but tried to hide his complicated heart. He pretended to be calm in front of happy Joobin Lee and recalled the happy days of the past. He finally made the viewers' hearts cry as if the longing he had endured for so long had burst.
Mainly, Inhyuk Bae's acting delicately showed a variety of emotions. He showed the fluttering love affair to the painful and mournful appearance of his deep heart after parting. It perfectly harmonizes with Yongjae Shin's unique emotional voice and singing ability. Also, the deep sad emotions of the song make it even more meaningful. So, it provides a sense of immersion.
Actor Inhyuk Bae appeared in the dramas 'My Roommate Is A Gumiho' and 'At A Distance, Spring Is Green' at the same time. He was certified as 'trend' with the lead role on Monday, Tuesday, Wednesday, and Thursday, dramas. Inhyuk will appear in the new SBS drama 'Why Oh Soo-Jae as the lead. He will play the role of Yoonsang Choi, a sophomore law school student, and show off a love triangle with Hyunjin Seo and Inyeop Hwang.
The SBS new drama, 'Why Oh Soo-jae,' will premiere for the first time in the first half of 2022.
Read More About: Kpop Organizations Appel To The South Korean Government To Not Discriminate Popular Music Performances
best Kpop girl group
,
best kpop news site
,
best kpopstar
,
breaking news kpop
,
daily kpop news
,
Fandom
,
Hip-hop Idol JIN
,
Jin
,
JIN news
,
Korean celeb news
,
Korean singer
,
Korean singer songwriter
,
KPOP
,
Kpop album
,
Kpop beauty routine
,
Kpop boy group
,
kpop celebrity news
,
Kpop chart and news
,
Kpop colllaboration
,
KPOP comeback
,
Kpop current news
,
kpop daily news
,
Kpop fashion
,
Kpop girls group
,
kpop idol JIN
,
Kpop idols
,
Kpop issues
,
Kpop latest news
,
Kpop music chart
,
Kpop news
,
Kpop news articles
,
Kpop news sites
,
kpop news update
,
Kpop recent news
,
Kpop skin care routine
,
Kpop skincare routine
,
KPop trending news
,
KPOPNEWS
,
Singer JIN
,
South Korean singer songwriter
,
the best kpop girl group
,
the best kpop girl group of 2021
,
the best kpop group of 2021
,
the top kpop group
,
top kpop boy group
,
top kpop girl group