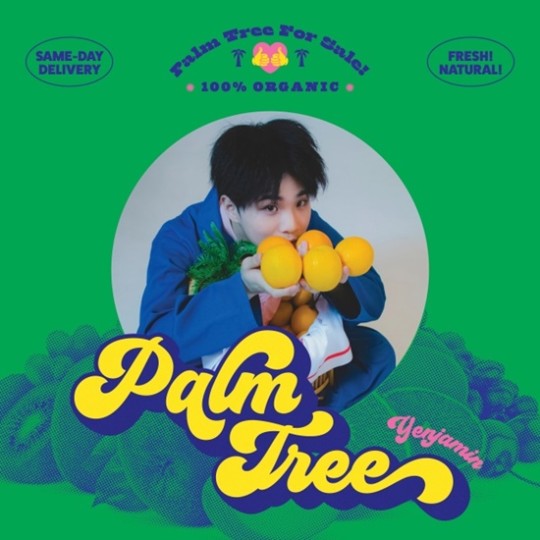 Rapper Yenjamin will release his cool summer single 'Palm Tree' today, July 28th.
Brand New Music, his agency, recently released a poster on their official social media channels of the cheerful Yenjamin hugging an orange. It comes with the phrase 'The Palm Tree Man is coming to you,' which raised the curiosity of fans.
Afterward, they announced the news of Yenjamin's new single release along with witty phrases such as 'Brandnew's hottest tree this summer' and 'The palm tree is kind and Yenjamin is strong,' raising expectations.
In addition, the teaser video shows an intro that induces an inner dance along with a Polaroid photo with colorful charms. So, it further raised the curiosity of fans about this new single.
The new song 'Palm Tree' is a house song that comfortably captures the heart-fluttering confession of love under a palm tree. You will be able to see not only Yenjamin's unique rap skills but also his hidden vocal skills.
So, fans can enjoy Yenjamin's new song 'Palm Tree,' through various online music sites at 12:00 noon on July 28th.
Read More About: NADA Unveils New Song 'Spicy' MV Teaser!
2021 kpop
,
2021 kpop news
,
2021 kpop news updates
,
2021 kpop updates
,
2021 news kpop
,
2021 updates on kpop
,
KPOP
,
Kpop 2021
,
Kpop artist
,
Kpop artists
,
Kpop news
,
Kpop trending
,
KPop trending news
,
Kpop trending now
,
kpop Yenjamin
,
kpop Yenjamin_palm tree
,
KPOP2021
,
KPOPIDA
,
KPOPNEWS
,
Kpopnews 2021
,
Kpopnews2021
,
rapper Yenjamin
,
Trending
,
trending 2021
,
trending kpop
,
Trending Kpop news
,
trending kpop update
,
trending news
,
trending update kpop
,
Yenjamin
,
Yenjamin kpop
,
Yenjamin new single
,
Yenjamin_plam tree