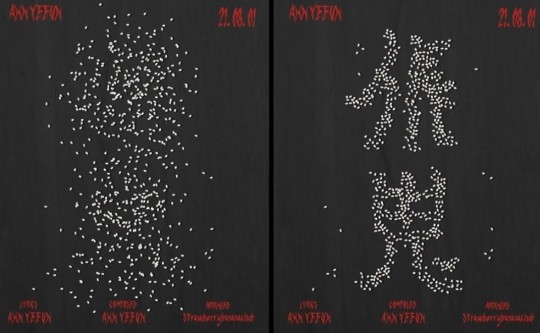 Singer-songwriter Yeeun Ahn released her new song teaser content.
Recently, Double X Entertainment posted the moving teaser of Yeeun Ahn's new song 'Changgwi' on its official social media channel.
'Changgwi' is a new song by Yeeun Ahn, who renewed the new title of 'Korea's First Horror Song Pioneer.'
Her new song will be the second horror song following her song 'Trumpet Creeper,' released in July 2020.
Particularly, the released video forms the word 'Changgwi' with grains of rice reminiscent of 'Mukkuri,' where shamans practice divination with rice, along with a sound that stimulates fear.
It stimulates the public's curiosity as to what story this song will convey.
Earlier on July 22nd, they released the table of contents of 'Changgwi' through their official social media account. It attracted attention and caused a hot reaction from netizens with the image of a pen drawing with a tiger mask in the background. So, it creates a sense of dread and fear. In addition, fans' expectations for upcoming images, video teasers, and events are increasing.
Yeeun Ahn, who is releasing a horror song of 'Horror Special' every summer, plans to color this summer with coolness and chills through her new song 'Changgwi.'
Following 'Trumpet Creeper,' which became a hot topic featuring actor Kyunsang Yoon, Yeeun Ahn will release the next horror song, 'Changgwi.'
Yeeun Ahn will release the song on August 1 through various music sites.
Read More About: BLACKPINK Jisoo x WJSN Bona Shows Off Their Friendship
2021 kpop
,
2021 kpop girl idols
,
2021 kpop news
,
2021 kpop news updates
,
2021 kpop updates
,
2021 news kpop
,
2021 updates on kpop
,
horro queen_Yeeun Ahn
,
horror song Yeeun Ahn
,
KPOP
,
Kpop artist
,
Kpop artists
,
Kpop news
,
Kpop trend
,
Kpop trending
,
KPop trending news
,
Kpop trending now
,
kpop trending update
,
kpop Yeeun Ahn
,
KPOP2021
,
KPOPIDA
,
KPOPNEWS
,
Trending
,
trending 2021
,
trending kpop
,
Trending Kpop news
,
trending kpop update
,
trending news
,
trending update kpop
,
Yeeun Ahn
,
Yeeun Ahn kpop
,
Yeeun Ahn news
,
Yeeun Ahn_changgwi
,
Yeeun Ahn_trumpet creeper