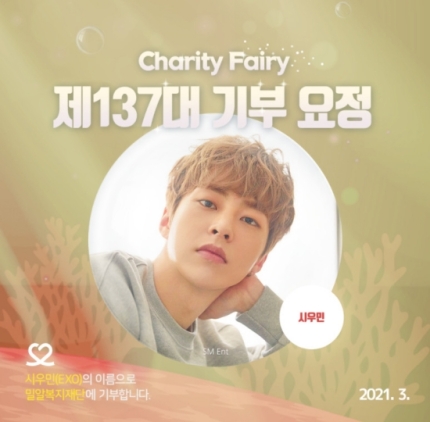 Xiumin of EXO was recently selected as the 137th donation fairy. He received 115,940,026 votes in the idol ranking service 'Choeaedol' thanks to domestic and foreign fans' interest and response.
Eventually, EXO-L's (Fandom) congratulatory wave continued for Xiumin, who celebrated his birthday on March 26th. Fans conveyed affectionate messages such as:
"Thanks to Minseok, I am happy in March every year"
"Min-seok is my only spring"
"I will continue to support you in the future"
'Choeaedol' converts cumulative rankings over the past 30 days as a donation angel if it achieves first place. And, as a donation fairy, if it reaches 55,555,555 votes or more on various anniversaries.
Therefore, the donation will proceed to the 'Millal Welfare Foundation' under Xiumin. They will be using it as a job support project for the disabled. In fact, Xiumin achieved a cumulative donation amount of 6.5 million won. It includes a total of 12 donations, 6 donation angels, and 6 donation fairies. The total cumulative donation amount of 'Choeaedol' ranges to 215.5 million won.
Meanwhile, Xiumin completed his exclusive online fan meeting 'ON: XIUWEET TIME.' on March 27th. As a result, Xiumin raised fans' expectations by showing himself while preparing for the fan meeting through his Instagram. He expressed his love for Fandom EXO-L, saying, 'Thank you for making happy and precious memories'.
Read More: Daniel Kang and Blackpink's Lisa Donation Angels