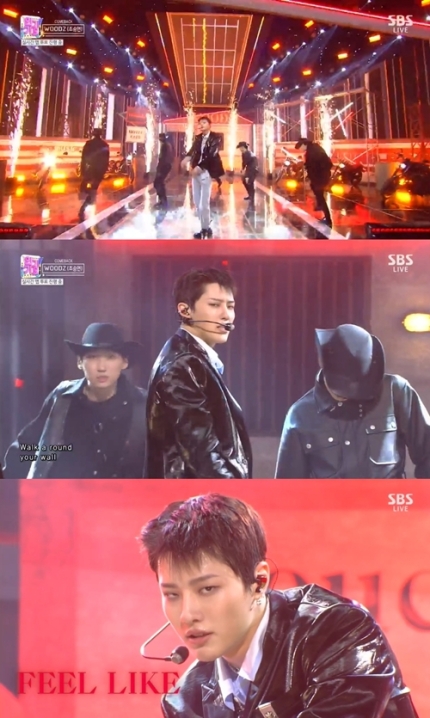 WOODZ took over the stage with his chic and dreamy charm. He appeared on SBS 'Inkigayo' on the afternoon of the 21st. He performed the title song 'FEEL LIKE' of his first single album, 'SET.'
On that day, WOODZ showed off the title song 'FEEL LIKE' with a short hairstyle and dreamy eyes. He boasted a black hole-like charm through a different visual and atmosphere from previous activities.
Particularly, WOODZ dominated the stage by himself, boasting as an all-around solo artist. His Intense yet hip performance and unrivaled tone made his growth stands out.
The title song 'FEEL LIKE' is a song expressing the relationship between men and women. WOODZ directly participated in the lyrics and composition.
The chic bass line reveals Woodz's capabilities. The way the guitar riff unfolds in a careless and sexy way and his simple yet detailed drum made up of various sounds catches viewers' attention. In addition, the sound of the track in harmony with all these are the points of appreciation.
Read More News:
WOODZ Performed 'Feel Like' On MBC's 'Show Champion'
Group SHINee Achieves 6 Crowns
Brave Girls 'Rolin' Shines After 4 Years
2021 kpop news
,
2021 kpop news updates
,
2021 kpop updates
,
2021 updates on kpop
,
All kpop
,
Allkpop
,
KPOP
,
Kpop 2021
,
Kpop artist
,
Kpop artists
,
Kpop idols
,
Kpop news
,
Kpop trend
,
Kpop trending
,
KPop trending news
,
Kpop trending now
,
kpop trending update
,
KPOP2021
,
Kpopall
,
KPOPIDA
,
KPOPNEWS
,
Kpopnews 2021
,
Kpopnews2021
,
Kpopstars
,
Trending
,
trending 2021
,
trending kpop
,
Trending Kpop news
,
trending kpop update
,
trending news
,
Woodz
,
woodz new song
,
Woodz_Feel like
,
woodz_set