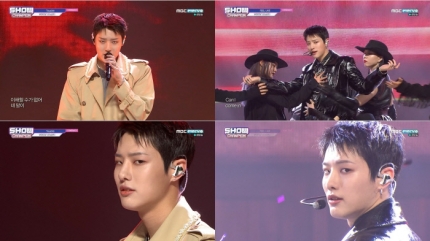 WOODZ (Seungyeon Jo) proved his qualification as an 'all-round musician' with his perfect control on stage.
WOODZ appeared on MBC's 'Show Champion,' which aired on the afternoon of March 24th. He performed his first single 'SET' title's song 'FEEL LIKE' and 'Touche.'
Fans noticed the changes in his hairstyle and visuals due to losing weight. Afterward, WOODZ expressed his dandy charm and chic looks. He presented the charm of falling in a black hole with a dreamy atmosphere.
WOODZ performed his song, 'Touche.' He stood on the stage under the intense red color lighting. It created a lyrical atmosphere with coat styling and calmly expressed a song containing the bitterness of parting.
WOODZ is already an 'all-round musician' through his performance of 'FEEL LIKE.' He is showing his ability to dominate the stage, even though he performed alone. He also set a flawless performance with his dance, vocals, and impeccable capabilities.
'FEEL LIKE,' which WOODZ participated in writing and composing, is the title track of his first single released on March 15th. The song is expressing the relationship between men and women. It conveys the message, 'Although it is a strange person, it contains the protagonist's psychology, who is not so disliked by the strange attraction that she feels.'
WOODZ plans to continue his 'FEEL LIKE' activities through various music broadcasts and contents.
Read More About: Jessi Appeared On SBS's 'My Little Old Boy'