Wonho released the behind-the-scene preparations for his comeback with the 1st mini-album Part 2. 'Love Synonym #2:Right For Us.'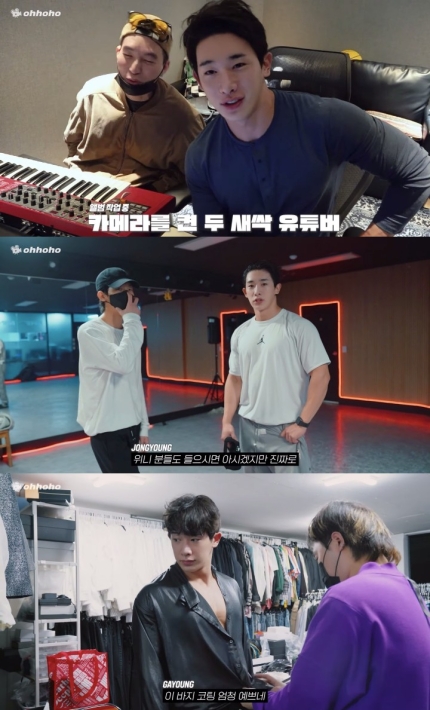 On the 3rd, Wonho released the behind-the-scene preparations for his comeback with the 1st mini-album Part.2, 'Love Synonym #2: Right for Us,' through his personal YouTube channel 'ohhoho.'
In the released video, Wonho said, "I'm trying to make a song based on 'WENEED,' which is the original meaning of 'WENEE' (fandom name). I am going to do more work even with the camera turned off. There are messages that I can imagine while listening, so I think I just need to organize the lyrics well."
Wonho continued to practice the choreography of 'Lose' with hisTeam. It drew admiration due to his professionalism by focusing only on practice to show his best performance to the fans.
Music practice interviews were also conducted during break time. When Team Wonho dancer Jongyoung asked, "The song title is 'Lose,' what kind of emotion did you want to express?" Wonho said, "I expressed pure macho. I lost to the other person playing with me and cleared up my mind, but the other person is trying to come back. So when you come back, you really lose. It has that meaning."
After completing the choreography practice, Wonho even checked the outfit and hairstyle for the music video shoot. Wonho carefully checks his clothes for a perfect body fit and does not take a break from practicing while changing his hairstyle. He won the hearts of fans around the world with his hard work.
Read More:
Wonho, Top 5 K-Pop Solo Stars To Surprise America In 2021 By Forbes
Park Bom Succeeded In Her Weight loss Journey
MOON (Moon Sujin) Will Make A Comeback On April 11th
2021 kpop news
,
2021 kpop news updates
,
2021 kpop updates
,
Allkpop
,
KPOP
,
Kpop 2021
,
Kpop artist
,
Kpop artists
,
Kpop idols
,
Kpop news
,
Kpop trending
,
KPop trending news
,
kpop trending update
,
kpop updates
,
KPOP2021
,
KPOPIDA
,
KPOPNEWS
,
Kpopnews 2021
,
Kpopstars
,
Love synonym #2
,
treasure debut
,
WONHO
,
wonho 2021
,
wonho album
,
wonho love synonym