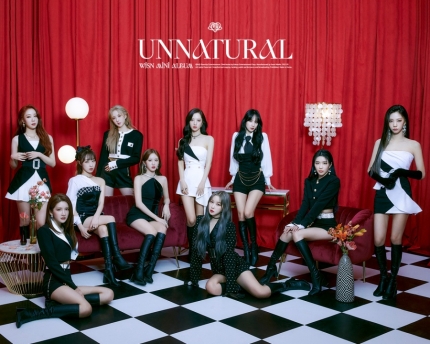 WJSN is making a comeback with a new album, 'UNNATURAL.' The WJSN members will release a new mini-album, with the title, 'Unnatural,' at 6 pm on the 31st. In fact, they begin their activities for the title song of the same name.
WJSN begins their team activities in about 9 months after 'Neverland,' in June last year. The members have been active in unity for various entertainment appearances, acting, etc. Fans are now focusing on the release of WJSN's new album after 9 months.
With their last album, WJSN recorded new initial sales (after releasing the album) and two music broadcasts. Also, they ranked second place in '2020 Best K-Pop Albums: Selected by Critics' by Billboard. The girl group has been playing an active part in the music industry.
'Unnatural' is an album where a space girl, in love, sang her heart out with a cold expression. WJSN has shown the image of a mysterious and delicate girl so far. But, in this album, they will show the duality of pretending to be indifferent and provocative. They planned to deliver a more mature and deeper charm by expressing feelings that are colder and ordinary. But they tried not to be trivial than the existing image of WJSN.
By releasing a concept photo composed of three versions earlier, WJSN presented a different charm from their previous album. The 10 members with a chic and fascinating charm caught the viewers' eye with their mature beauty.
The active participation of the members also attracts attention in this album. This new album consists of 6 songs. It includes 'Unnatural,' 'Last Dance,' 'Everything You Want,' 'New Me,' 'Um,' and 'Don't Forget.'
Wherein, WJSN members, Exy and SeolA, participated in the lyrics and composition.
In addition, Exy participated in rap-making since her debut song 'Momomo.'
Exy showed her musical capabilities by participating in this album's lyrics and composition. SeolA, who released her first self-composed song, 'Our Garden,' is also raising expectations.
Read More About: WJSN The Black' Coming Soon With Teaser Revealed
2021 kpop news
,
2021 kpop news updates
,
2021 kpop updates
,
KPOP
,
Kpop 2021
,
Kpop artist
,
Kpop artists
,
Kpop idols
,
Kpop news
,
Kpop trending
,
KPop trending news
,
Kpop trending now
,
KPOP2021
,
Kpopall
,
KPOPIDA
,
KPOPNEWS
,
Kpopnews 2021
,
Kpopnews2021
,
Kpopstars
,
Trending
,
Trending Kpop news
,
trending news
,
WJSN
,
WJSN Comeback
,
WJSN members
,
WJSN_Exy
,
WJSN_SeolA
,
WJSN_Unnatural