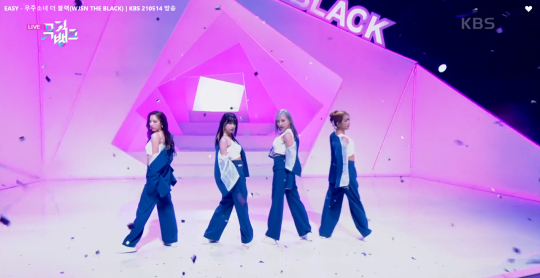 The second unit of the group WJSN, 'WJSN The Black,' began their first music broadcast after their debut.
KBS 2TV 'Music Bank,' which aired on May 14th, unfolded various performances. It is led by hosts OH MY GIRL Arin and Tomorrow by Together (TXT) Soobin.
In fact, WJSN The Black (Seola, Exy, Bona, Eunseo) first released the performance of the title song 'Easy' of their debut single, 'My attitude.' WJSN The Black, which attracts the viewers' eye, showed their spectacular performance with a chic and elegant appearance. They presented a complete stage performance.
The title track 'Easy' is a gentle, slow, but intense, seductive song for a loved one. In addition to the harmony of fascinating vocals, intense and powerful performances, the sophisticated styling of the members double their chic charm. So, they literally caught the keen attention of music fans.
On that day's broadcast, Brave Girls' 'Rollin' and ITZY's 'MAFIA In The Morning' were the candidates for the No. 1 spot on the K-chart for the second week of May. As a result of the summing all the scores, ITZY's 'MAFIA In The Morning' rose to the top taking their long-awaited first place.
ITZY, who ranked first, said, "First of all, thank you to everyone who loves 'MAFIA In The Morning' and ITZY. We think we won this award thanks to MIDZY (fan club). MIDZY, we love you and thank you."
Then, they performed on the center stage with a part change.
ITZY's #1 song 'MAFIA In the morning' is a song that adds curiosity and uniqueness like in a mafia game. It contains a message full of confidence that you will approach your hidden emotions and take away the hearts of your loved ones. So, the five members' powerful approach with their faces covered and addictive sounds are impressive.
'Music Bank' broadcast on this day includes AB6IX, D.Ark, ENHYPEN, ITZY, NCT DREAM, P1Harmony, Second Aunt KimDavi, Blitzers, Sunghyuk Seo, OH MY GIRL, WJSN The Black, ONEUS, Checkmate, BEAST (Highlight), and HOT ISSUE. These groups add to the K-pop fever with splendid performances.
KBS 2TV 'Music Bank,' airs every Friday at 5 pm. It is also broadcast in 114 countries around the world through KBS World Channel.
Read More About: WJSN The Black To Showcase 'Easy' For The First Time
korean popular music show
,
KPOP
,
Kpop artist
,
Kpop artists
,
KPOP music
,
Kpop news
,
Kpop trending
,
KPop trending news
,
Kpop trending now
,
KPOP2021
,
KPOPIDA
,
KPOPNEWS
,
music bank
,
Trending
,
trending 2021
,
trending kpop
,
Trending Kpop news
,
trending kpop update
,
trending news
,
trending update kpop
,
WJSN
,
WJSN Comeback
,
WJSN members
,
wjsn the black
,
WJSN_Bona
,
WJSN_Easy
,
WJSN_Eunseo
,
WJSN_Exy
,
WJSN_My Attitude
,
WJSN_SeolA