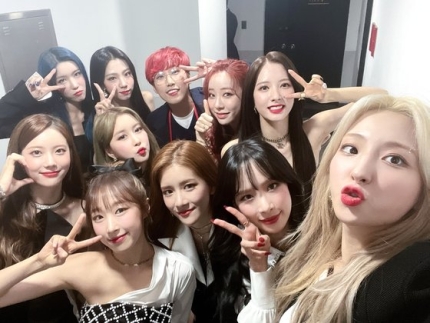 WJSN, particularly Bona, Exy, and Eunseo, shared their thoughts of making a comeback with an unprecedented visual and concept.
After releasing a new mini-album, 'UNNATURAL' on March 31st, WJSN held an online showcase to commemorate their comeback through Naver V Live WJSN's official channel.
On that day, WJSN talked while listening to their title song 'UNNATURAL' and the album's songs. Exy participated in the lyrics and composition of the song. She revealed the aspect of' all-round stone,' said, "I spent the PPT together while working on the song for this album. I wanted to show my sincerity with the PPT skills created as a team when I was in college."
Following, Bona directly showed three point choreography, from you dance, LA dance, and peep-duck dance to the songs of the members. Exy attracted attention by saying, "This point choreography will be the easiest to follow among our choreography."
WJSN also shared the points of appreciation of their music video. It attracted attention with the splendid visual of the members. Subin explained, "I was in love, but I acted as a method to express the feeling of pretending to be okay." Then, Bona added, "If you go to the museum, there are works. We are works. We gave a point visually."
When MC Jaejae asked, "WJSN's new album 'UNNATURAL' is OO." Eunseo replied, "UNNATURAL' is 'New Me.' I think I can see a new individual WJSN girl." Next, Exy was "poison", Subin and Dayoung were "excited," and Bona said, "It's a 50-part epic drama." She gave pleasure by giving answers that each had their own personality.
Also, by releasing the track 'New Me' and the hidden film, it attracted attention with an upgraded performance. Eunseo expressed her confidence by expressing the concept of this album as 'Do-do-dang-dang chic, Do-dang-shi.'
The talk corner of 'My Secret Only I Know' was held. WJSN spoke about TMI and album preparation episodes that fans are curious about. In particular, Subin mentioned Hyori Lee as a role model. She said, "On the day of my first debut, I met the seniors of the Refund Expedition. Hyori Lee was very kind and gave me a challenge. Her concept was very cool.
Bona and Eunseo also shared a story about their hair. "I got the current hair color after four dyes, as no one knows," Bona said. "I'm a blond after a year and a half. It's been a long time since I want to express my feeling with a hairstyle," Eunseo said.
Finally, Exy said, "We completed this album because we had our Ujung (fandom name) waiting at the same place without change. We will work hard while thinking about friendships."
WJSN ended the comeback showcase by highlighting the stage of the title song 'UNNATURAL.'
The song 'UNNATURAL' has an addictive hook and rhythmic beat. It also has an impressive up-tempo pop dance song. The song captured WJSN's powerful vocals and performances. Fans' expectations are rising on the comeback activities of WJSN, which will begin soon.
Read More About: 'WJSN The Black' Coming Soon On May
cosmic girls
,
KPOP
,
Kpop 2021
,
Kpop artist
,
Kpop artists
,
KPOP Girl
,
KPOP GIRL GROUP
,
kpop girl idols
,
Kpop girls group
,
Kpop hottest singer
,
Kpop idols
,
Kpop news
,
Kpop trending
,
KPop trending news
,
KPOP2021
,
Kpopall
,
KPOPIDA
,
KPOPNEWS
,
Kpopstars
,
Trending Kpop news
,
WJSN
,
WJSN Comeback
,
WJSN members
,
WJSN_Bona
,
WJSN_Eunseo
,
WJSN_Exy
,
WJSN_Unnatural