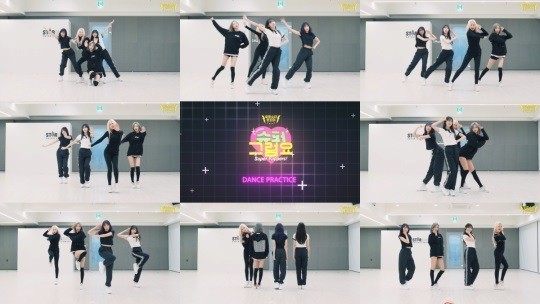 K-pop group WJSN Chocome took off their 'hero look' and showed off their natural charm. WJSN Chocome (Soobin, Luda, Yeoreum, Dayoung) recently released a choreography practice video for their second single, 'Super Yuppers!' through their official YouTube channel.
In the video, WJSN Chocome focused the attention of fans by appearing in comfortable training clothes, not in the intense hero costume that dominated the stage.
The members showed a natural mood by taking more relaxed movements and free gestures to match their light clothing. Notably, it gave a real pleasure as if facing the OFF mode of 'Chocome Heroes,' which lacks 24 hours to handle citizens' complaints.
Chocome, who gave a different kind of fun through a choreography video, boasted a clean and uncluttered movement from the beginning to the end of 'Super Yuppers!' and showed admiration by revealing a sum reminiscent of a real battle under the stage.
Chocome's 'Super Yuppers!' is a disco-based dance song with the members' impressive vocals and animation-reminiscent concept.
During the activities of the first single, 'Hmph!,' Chocome colored various social media channels with the 'Hmph! Challenge.'
Also, they are conducting the Chocome Challenge with 'Super Yuppers,' continuing its hot topic.
K-pop group WJSN Chocome, who will be active with 'Super Yuppers,' will appear on 'Weekly Idol,' which will air on MBC M at 8 pm on January 12 and MBC Every1 at 12 pm.
Read More About: MIRAE Changed The Mood Refreshingly Through The Concept Of Their Comeback Album
daily kpop news
,
KPOP
,
Kpop artist
,
Kpop artists
,
kpop celebrity news
,
kpop daily news
,
Kpop idols
,
Kpop latest news
,
Kpop news
,
Kpop recent news
,
Kpop shocking news
,
Kpop trending
,
KPop trending news
,
Kpop trending now
,
KPOP2021
,
KPOPIDA
,
KPOPNEWS
,
shocking kpop news
,
shocking news on Kpop
,
shocking news updates
,
trending kpop
,
Trending Kpop news
,
trending kpop update
,
trending update kpop
,
WJSN
,
wjsn chocome
,
WJSN Comeback
,
wjsn dayoung
,
WJSN EUNSEO
,
WJSN members
,
wjsn the black
,
WJSN_Bona
,
WJSN_Easy
,
WJSN_Eunseo
,
WJSN_Exy
,
WJSN_My Attitude
,
WJSN_Seol-A
,
WJSN_SeolA
,
WJSN_Unnatural