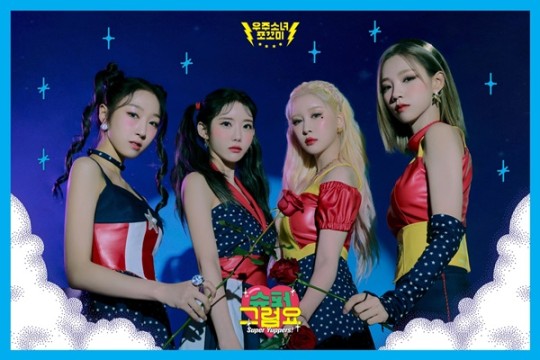 Kpop group WJSN Chocome will start 2022 energetically with a new album. WJSN Chocome (Soobin, Luda, Yeoreum, Dayoung) will release their second single, 'Super Yuppers!', through various online music sites at 6 pm on January 5.
This album presents fresh synergy with 2AM Changmin Lee, who is in charge of producing. 'Super Yuppers!' the title of the same name as the album, is a song with a message of hope that "it appears whenever you sing it."
Also, the song contains the members' refreshing vocals and appearance reminiscent of animation with an impressive disco-based dance genre.
In addition, the track 'Chocolate Milk,' which expresses the shy hearts of girls in love with chocolate milk, will be included to convey the lovely charm of Chocome.
Particularly, Chocome transforms into a four-person, four-color superhero through 'Super Yuppers!' activities. As it parodies the title of the animation in the early and mid-1990s, it will surely convey memories and wit and create another sensation in the Kpop scene with its addictive hook and intense CHOCOME performance.
WJSN Chocome received much love from the public with their debut single 'Hmph!' released in October last year. They dominated various social media channels with the 'HMPH! Challenge' with its easy-to-follow point choreography. Also, at the 2021 Korea First Brand Awards, they won the 'Idol Unit' and shone their unique presence at the 2021 Asia Artist Awards.
Global fans are paying keen attention to the relentless world of music, where WJSN's CHOCOME, who returns with stronger costumes and performances in a year and three months, will unfold with 'Super Yuppers!'
Kpop group WJSN CHOCOME will release 'Super Yuppers!' through various online music sites at 6 pm on January 5. On the same day, at 8 pm, they will host a comeback special live through Starship Entertainment's official YouTube channel.
Read More About: P1Harmony Enters The US iTunes Charts + Top 3 In 8 Countries Worldwide
2021 kpop news
,
2021 kpop news updates
,
best kpop news site
,
breaking news kpop
,
daily kpop news
,
Korean celeb news
,
KPOP
,
Kpop artist
,
Kpop artists
,
kpop celebrity news
,
Kpop chart and news
,
Kpop current news
,
kpop daily news
,
Kpop idols
,
Kpop latest news
,
Kpop news
,
Kpop news articles
,
Kpop news sites
,
kpop news update
,
Kpop recent news
,
KPop treasure
,
Kpop trend
,
Kpop trending
,
KPop trending news
,
Kpop trending now
,
kpop trending update
,
KPOP2021
,
KPOPIDA
,
KPOPNEWS
,
Trending
,
trending 2021
,
trending kpop
,
Trending Kpop news
,
trending kpop update
,
trending news
,
trending update kpop
,
WJSN
,
WJSN Comeback
,
wjsn dayoung
,
WJSN EUNSEO
,
WJSN members
,
wjsn the black
,
WJSN_Bona
,
WJSN_Easy
,
WJSN_Eunseo
,
WJSN_Exy
,
WJSN_My Attitude
,
WJSN_Seol-A
,
WJSN_SeolA
,
WJSN_Unnatural