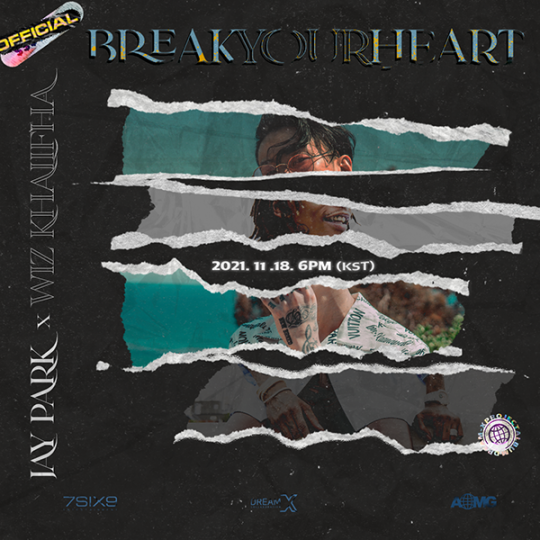 The first teaser image of 7SIX9 Entertainment's 'Dream-X Project' has been released. The song 'Break Your Heart' was first announced through a teaser image released on the official channel of 7SIX9 Entertainment on the afternoon of November 11. The divided image of Jay Park and Wiz Khalifa, who participated in the collaboration project, raised fans' curiosity worldwide.
In addition, the teaser image featured a deep and dreamy mood along with a meaningful title. The teaser suggesting the pain of a relationship is raising public expectations. So, it foretells the creation of explosive synergy by adding the intense musical styles of the two artists.
In fact, 'Dream-X Project' is a project to release collaboration music that transcends nationality and language. 'Break Your Heart' followed the first song released by Chinese artist Silence Wang and Australian singer Lenka in February. AOMG's Jay Park, who leads the Korean hip-hop scene, and world-class rapper Wiz Khalifa, known in Korea for 'See You Again,' will meet to harmonize their identity with music.
Meanwhile, Kpop singer Jay Park and Wiz Khalifa's collaboration song 'Break Your Heart' will be out on various online music sites at 6 pm on November 18.
Read More About: DRIPPIN Releases New UNIVERSE's Song 'VERTIGO' Today!
2021 kpop news
,
2021 kpop news updates
,
2021 kpop updates
,
2021 news kpop
,
best kpop news site
,
bts trending
,
BTS trending news
,
BTSTREND
,
daily kpop news
,
Jay Park
,
Jay Park news
,
Korean celeb news
,
KPOP
,
Kpop 2021
,
Kpop artist
,
Kpop artists
,
kpop celebrity news
,
kpop daily news
,
Kpop idols
,
Kpop Jay Park
,
Kpop latest news
,
Kpop news
,
kpop news update
,
Kpop recent news
,
Kpop trend
,
Kpop trending
,
KPop trending news
,
Kpop trending now
,
kpop trending update
,
KPOP2021
,
Kpopall
,
KPOPIDA
,
KPOPNEWS
,
Kpopnews 2021
,
Kpopnews2021
,
latest kpop news
,
producer Jay Park
,
rapper Jay Park
,
recent kpop news
,
Singer Jay Park
,
treasure
,
Treasure members
,
Trending
,
trending 2021
,
trending kpop
,
Trending Kpop news
,
trending kpop update
,
trending news
,
trending update kpop
,
trending updte
,
wiz khalifa