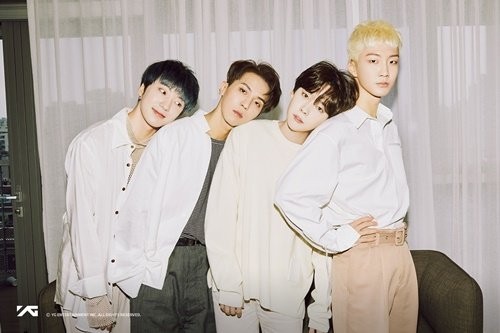 The K-pop group WINNER, who returned as a whole, foretold more activities than ever before, making the hearts of global fans excited. WINNER members started communicating with fans through Naver V LIVE on the night of January 17. Seungyoon Kang and Minho Song, who were active in various fields during the group's hiatus, as well as Jinwoo Kim and Seunghoon Lee, who returned from military duty, gathered together. The WINNER members gathered together and colored the global Inner Circle (fandom name) with joy.
WINNER, who expressed their affection for fans, said, "We have been thinking that all the members want to get together soon. The energy is much better. The tension is different," showing overwhelming feelings.
Particularly, WINNER drew the attention of fans by directly announcing that their comeback as a 'Complete Group' is possible. They said, "We have been preparing for a comeback for a long time. We have a lot of schedules. We miss the fans so much. We're preparing really well, and we will work hard in 2022 to try to fill this year."
K-pop group WINNER appeared on the survival program 'WIN: Who Is Next,' which aired in 2013 and won the championship. After a solid preparation, they made a splendid debut with the first full-length album, '2014 S/S', on August 17, 2014.
Since its debut, WINNER has been recognized for its wide range of music and sensibilities by putting all album title songs on music charts. They released hit songs such as 'Empty,' 'BABY BABY,' 'REALLY REALLY,' 'LOVE ME LOVE ME,' 'EVERYDAY,' 'MILLIONS,' 'AH YEAH,' 'Hold,' and 'REMEMBER.'
Seungyoon Kang and Minho Song recently boasted unlimited musicality through their first solo concert, raising expectations for WINNER activities. So, attention focuses on what new styles and performances those who are united again will visit the public.
Read More About: T-ARA Soyeon To Marry Football Player Yumin Cho In November This Year After Dating For 3 Years
best Kpop girl group
,
best kpop news site
,
best kpopstar
,
breaking news kpop
,
daily kpop news
,
Fandom
,
Hip-hop Idol JIN
,
Jin
,
JIN news
,
Jinwoo Kim
,
Korean celeb news
,
Korean singer
,
Korean singer songwriter
,
KPOP
,
Kpop album
,
Kpop beauty routine
,
Kpop boy group
,
kpop celebrity news
,
Kpop chart and news
,
Kpop colllaboration
,
KPOP comeback
,
Kpop current news
,
kpop daily news
,
Kpop fashion
,
Kpop girls group
,
kpop group winner
,
kpop idol JIN
,
Kpop idols
,
Kpop issues
,
Kpop latest news
,
Kpop music chart
,
Kpop news
,
Kpop news articles
,
Kpop news sites
,
kpop news update
,
Kpop recent news
,
Kpop skin care routine
,
Kpop skincare routine
,
KPop trending news
,
KPOPNEWS
,
minho song
,
Seunghoon Lee
,
Seungyoon Kang
,
Singer JIN
,
South Korean singer songwriter
,
the best kpop girl group
,
the best kpop girl group of 2021
,
the best kpop group of 2021
,
the top kpop group
,
top kpop boy group
,
top kpop girl group
,
WINNER
,
WINNER members