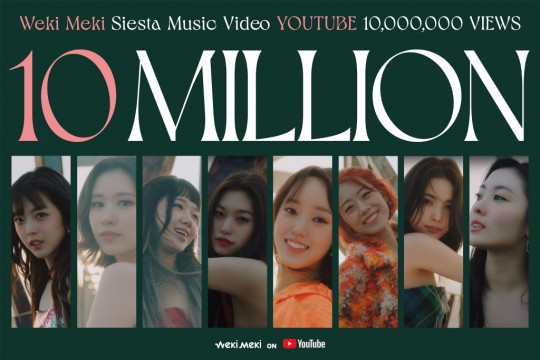 Kpop group Weki Meki's new song 'Siesta' music video has reached 10 million views.
The official music video for Weki Meki's 5th mini-album 'I AM ME' title song 'Siesta' surpassed 10 million views on YouTube as of November 26.
Immediately after its release, 'Siesta' ranked 7th on the real-time chart of domestic music site Bugs. Also, they showed their global presence by entering the iTunes Top Albums Chart in 18 Regions and Top Song Charts in 5 Regions.
In fact, the comeback song 'Siesta,' released after a year and a month, is a song that contains the aspiration that Weki Meki will provide 'healing energy' like a refreshing nap. It conveys that 'just as a brief nap in a hard and tiring daily life gives vitality.'
You can see the members' more mature vocals and charms, all in their 20s. Notably, the highly addictive performance with the participation of Kpop representative choreography team Lachica is attracting attention as it leads to the social media challenge.
The music video for 'Siesta' depicts the inner growth process of Weki Meki with a variety of styles. Weki Meki interpreted their twenties as a time when there were a lot of worries and thoughts. Also, it depicts an opportunity to fill in one's own colors at any time. In the music video, Kpop group Weki Meki showed various emotions as they met a new light after the chaos.
Read More About: '2021 KBS Song Festival' Features ASTRO Eunwoo, AOA Seolhyun, And SF9 Rowoon As Hosts
2021 kpop news
,
2021 kpop news updates
,
2021 news kpop
,
best kpop news site
,
daily kpop news
,
group weki meki
,
Korean celeb news
,
KPOP
,
Kpop artist
,
kpop celebrity news
,
Kpop chart and news
,
kpop daily news
,
kpop group weki meki
,
Kpop idols
,
Kpop latest news
,
Kpop news
,
Kpop news articles
,
kpop news update
,
Kpop recent news
,
Kpop trending
,
KPop trending news
,
KPOP2021
,
KPOPIDA
,
KPOPNEWS
,
Kpopnews 2021
,
recent kpop news
,
Trending Kpop news
,
trending news
,
WEKI MEKI
,
weki meki member
,
weki meki members
,
Weki Meki'