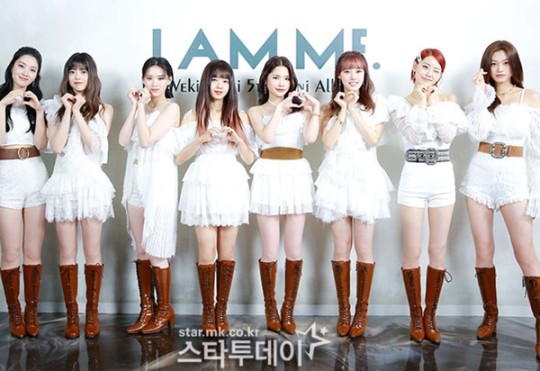 The Kpop group Weki Meki has returned after a long gap of a year and a month. Weki Meki held a showcase to celebrate the release of their fifth mini-album, 'I AM ME' on November 18. They just announced their comeback after a year and a month of hiatus.
On this day, Suyeon said, "I've never had such a long break since my debut. I want to thank the fans for waiting for me. So, I hope you look forward to it as much as we worked hard on it."
'I AM ME' honestly tells the story of 'I' that Weki Meki, which marks its 4th anniversary this year. The members actively participated in planning, writing, and composing, filling it with the most Weki Meki-style music and charm.
"It's attractive that Weki Meki members know how to love their natural and true selves," Doyeon said. "We tried to capture that charm and focused on telling our story honestly," she added.
Also, Sei said, "I thought it was the most Weki Meki-like to express the youth that the members are passing by. I wanted to show the strength and hope that we can get through when we are together through the worries, confused feelings of youth."
The title song 'Siesta' is a pop genre song that contains Weki Meki's ambition to leap anew and provide 'healing energy' like a brief nap that becomes vitality in everyday life.
Regarding the title song, which means 'nap,' Yoojung introduced it as 'a song that contains the desire for us to wake up from a nap and make a big leap forward.'
Doyeon raised expectations by saying, "Our style were revealed better than ever."
The performance was choreographed by Lachica, a dance crew who gained popularity in Mnet's Street Woman Fighter. Doyeon said, "Lachica took charge of the choreography of 'Siesta.' So, there are many bouncy and noticeable choreography."
In addition to the title song, the album also contains a total of six tracks. It features impressive and hopeful lyrics, including 'Who Am I,' 'Luminous,' and 'Sweet Winter.'
Regarding the goal of the activity, Doyeon said, "I think many people will sympathize with this album as it contains our honest stories. So, I hope many people will love it."
Yoojung said, "I want to hear the word Weki Meki a lot. Not only the title song but also all the songs in this album are full of good songs. So, I hope we can establish ourselves as Weki Meki."
Kpop group Weki Meki will release its fifth mini-album 'I AM ME' at 6 pm on November 18 and begin its activities.
Read More About: Lovelyz Jiae Yoo Signed An Exclusive Contract With YG KPlus
best Kpop girl group
,
best kpop news site
,
best kpopstar
,
breaking news kpop
,
daily kpop news
,
Fandom
,
Korean celeb news
,
Korean singer
,
Korean singer songwriter
,
KPOP
,
Kpop album
,
Kpop beauty routine
,
Kpop boy group
,
kpop celebrity news
,
Kpop chart and news
,
Kpop colllaboration
,
KPOP comeback
,
Kpop current news
,
kpop daily news
,
Kpop fashion
,
Kpop girls group
,
kpop group Luminous
,
Kpop idols
,
Kpop issues
,
Kpop latest news
,
Kpop music chart
,
Kpop news
,
Kpop news articles
,
Kpop news sites
,
kpop news update
,
Kpop recent news
,
Kpop skin care routine
,
Kpop skincare routine
,
KPop trending news
,
KPOPNEWS
,
Luminous
,
Luminous debut
,
Luminous members
,
Mnet
,
Mnet program
,
MNET SHOW
,
Mnet TMI News
,
rookie group Luminous
,
South Korean singer songwriter
,
Suil
,
the best kpop girl group
,
the best kpop girl group of 2021
,
the best kpop group of 2021
,
the top kpop group
,
TMI NEWS
,
top kpop boy group
,
top kpop girl group
,
Woobin