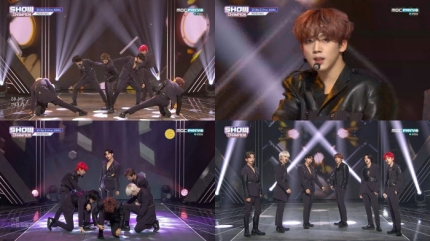 WEi showed off their full of charm performance.
WEi consists of Daehyun Jang, Dong Han Kim, Yong-ha Yoo, Yo-han Kim, Seok-Hwa Kang, Jun-Seo Kim. The group appeared on MBC'S 'Show Champion' and performed their second mini-album, 'IDENTITY: Challenge' with the title track 'All or Nothing' (Prod. Daehyun Jang).
WEi went on the stage expressing a rough real man's charm. They overwhelmed the viewers with their powerful dance and charismatic expressions. The members added tough gestures to enrich the performance of 'All or Nothing.'
Also, WEi's charisma and performance took over the stage expressing their wild masculinity. The choreography that expresses playing Yut also attracted attention along with their charms. WEi's performance proved that they are charismatic idols like strong addictive food, Mala.
The title track of their second mini-album, 'All or Nothing,' is a hybrid trap style track. It combines finely divided rhythms and oriental scales, witty lyrics, with a dynamic and colorful rap that you can only hear on Wei. This song combines the members' vocals.
Meanwhile, leader and rapper Daehyun Jang took over the whole production of lyrics, composition, and arrangement. On the other hand, Seok-Hwa Kang and Dong-han Kim participated in the lyrics to build a solid musical form.
Currently, WEi is actively engaged in music broadcasting and various contents.
Read More About: MIRAE Attended MBC's 'Show Champion'