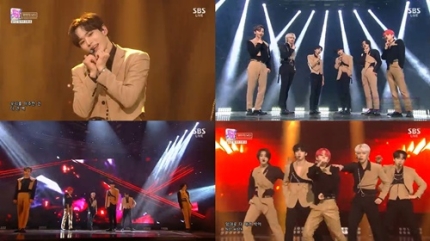 WEi showed off their sexy charisma. On the 28th, WEi members (Daehyun Jang, Donghan Kim, Yoohan Yoo, Yohan Kim, Seokhwa Kang, Junseo Kim) appeared on SBS 'Inkigayo.' They performed the title track of their second mini-album 'IDENTITY: Challenge.'
On that day, the group's attractive visuals shined even more on the stage. Their fascinating performance raised WEi's concentration and showed excellent stage.
Despite being a rookie, the rich stage manners of WEi members were unfolded. They expressed a 'monster rookie' presence on SBS 'Inkigayo.'
WEi raised the completion level on stage with their powerful sword group dance performance and stable vocals without shaking.
WEi members put heart poses throughout the performance to give fans more enjoyment.
'All or Nothing' is a song combining witty lyrics, dynamic rap, and colorful vocals that you can only hear through Wei. Their hybrid trap style track combines finely divided rhythms and oriental scales. Leader and rapper Dae-Hyun Jang takes over the entire production of lyrics, composition, and arrangement. While Seok-hwa Kang and Dong-han Kim participated in the lyrics, boasting a higher degree of completion.
On the other hand, the group will finish its music broadcasting activities with the stage of 'Simply K-Pop,' which will broadcast on the YouTube Arirang TV channel on April 2nd.
Read More About: Woodz Proved His Capabilities With His Song 'FEEL LIKE'
Group WEi
,
KPOP
,
Kpop 2021
,
Kpop artist
,
Kpop artists
,
kpop boy artist
,
Kpop boy group
,
Kpop boy idols
,
Kpop hottest singer
,
Kpop idols
,
Kpop news
,
Kpop trending
,
KPop trending news
,
kpop updates
,
Kpop Wei
,
KPOP2021
,
Kpopall
,
KPOPIDA
,
KPOPNEWS
,
Kpopstars
,
Trending Kpop news
,
Wei
,
wei members
,
wei performances
,
Wei_show