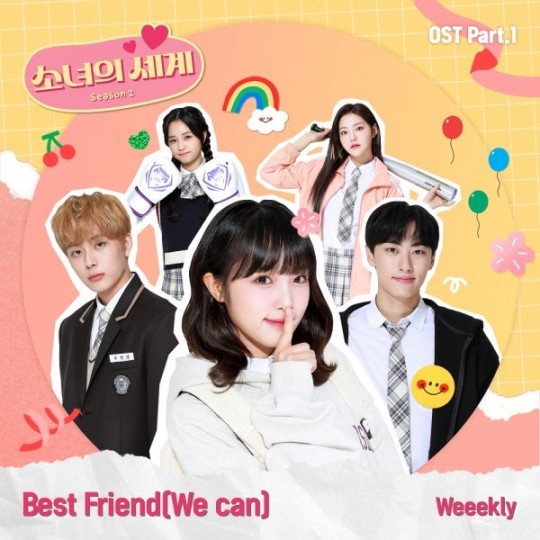 Kpop group Weeekly will be the first OST singer for the tvN's original web drama 'The World Of My 17 (season 2).'
On December 30, Stone Music Entertainment, which produces the OST for 'The World Of My 17,' said, "Weeekly will sing the first OST of the web drama 'The World Of My 17' based on the popular Naver webtoon of the same name. As Weeekly member Jihan is appearing in this webtoon, the OST will surely strengthen the immersion in the drama."
The first OST for 'The World For My 17' sung by Weeekly is 'Best Friend (We Can)' and will be out on December 30 at noon on major domestic music sites.
'Best Friend (We Can)' is a Teen Pop genre song with an exciting atmosphere. It centered on the 808 bass and guitar. The lyrics contain building friendships while supporting each other and growing together.
Inner Child of Monotree, the top producing team in Korea, wrote the lyrics. Then, Jongsung Yoon composed and arranged the song.
Weeekly is a 7-member group consisting of Soojin Lee, Jiyoon Shin, Monday, Soeun Park, Jaehee Lee, Jihan, and Zoa.  They debuted last year with 'Tag Me' (@Me).'
Weeekly, which swept various 'Rookie of the Year' awards immediately after debut, gained much attention as a next-generation Kpop representative. Since then, they have released a total of 4 mini-albums. They have been expanding their position by participating in OSTs for 'Wannabe Ryan' and 'Hello, Me!'
Currently, Jihan plays the role of Seonji, a friend of Nari (Yena Choi) and a part-timer at Nari's bakery in 'The World of My 17 (Season 2).'
The 'World of My 17′ is based on a webtoon of the same name. It topped Naver's Monday webtoon at the beginning of the series. In addition to Jihan, Yena Choi, Sunho Yoo, Wonjung Lee, Chaekyung Han, Boreum Hwang, and Hyunbin Kwon appear to portray teenagers' first love, friendship, and dreams lovingly.
Since December 15, new episodes have been released every Wednesday. It airs through Naver TV, V LIVE, ABEMA in Japan, and WeTV in Southeast Asia.
Read More About: Sujin Moon Reveals Teaser For Her New Single 'Eyes'
best Kpop girl group
,
best kpop news site
,
best kpopstar
,
breaking news kpop
,
daily kpop news
,
Fandom
,
girl group Weeekly
,
Hip-hop Idol JIN
,
Jin
,
JIN news
,
Korean celeb news
,
Korean singer
,
Korean singer songwriter
,
KPOP
,
Kpop album
,
Kpop beauty routine
,
Kpop boy group
,
kpop celebrity news
,
Kpop chart and news
,
Kpop colllaboration
,
KPOP comeback
,
Kpop current news
,
kpop daily news
,
Kpop fashion
,
Kpop girls group
,
KPOP GROUP Weeekly
,
kpop idol JIN
,
Kpop idols
,
Kpop issues
,
Kpop latest news
,
Kpop music chart
,
Kpop news
,
Kpop news articles
,
Kpop news sites
,
kpop news update
,
Kpop recent news
,
Kpop skin care routine
,
Kpop skincare routine
,
KPop trending news
,
kpop weeekly
,
KPOPNEWS
,
Play Game: Holiday by Weeekly
,
Singer JIN
,
South Korean singer songwriter
,
the best kpop girl group
,
the best kpop girl group of 2021
,
the best kpop group of 2021
,
the top kpop group
,
top kpop boy group
,
top kpop girl group
,
weeek;y third mini album
,
Weeekly
,
Weeekly Comeback
,
Weeekly members
,
weeekly new album
,
weeekly thrid mini album
,
weeekly_after school
,
Weeekly_Holiday Party
,
Weeekly_Play Game: Holiday
,
Weeekly_We Play
,
Weekly Idol