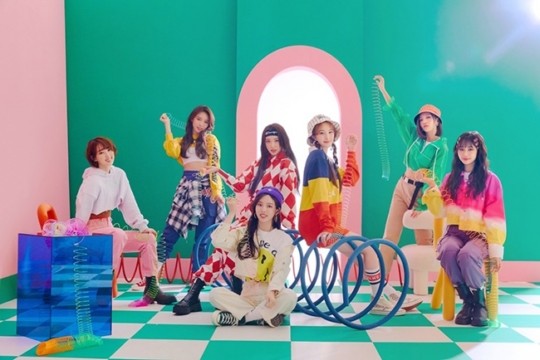 Weeekly has entered the Billboard World Digital Song Chart in the US. The group is on an unusual global upswing.
On the 27th, Weeekly's 'After School' reached No. 21 on the World Digital Song Sales Chart. This is for the 1st week of May released by Billboard, an American music media. They achieved exceptional results as a rookie.
Accordingly, US media Forbes attracted attention by introducing Weeekly's 'After School'. They recognized it together with BTS, Blackpink, and Stray Kids as one of '5 notable tracks on this week's Billboard World Digital Song Sales Chart.'
Forbes described Weeekly as "a newcomer who has not yet debuted for less than a year but is already making a big difference in the US. This is an important achievement for the group. It only shows they can expect a bright future in the United States."
Also, Weeekly's 'After School' proves its popularity by reaching the top 3 daily for 3 consecutive weeks on the world's largest music streaming site, Spotify. Besides, Weeekly ranked in the 'Viral 50 Global Chart' and ranked 3rd for 2 consecutive weeks on the weekly chart from the 12th.
Currently, the cumulative number of Weeekly's 'After School' streaming on Spotify exceeded 16 million. Besides, the number of monthly listeners has exceeded 2.4 million. So, this is a significant record that can level with the influence of global K-pop artists. Also, it is a point where we can predict the infinite growth potential of Weeekly. Currently, the world is paying attention to the group.
Meanwhile, 'After School' is a dance song expressing the preciousness of life and freedom with friends after school. It goes with a bouncing melody. In fact, Weeekly has ended the 'After School' official album activity on the 11th, but it's still popular among 'MZ Generation' fans. Also, it is showing a bitter 'global reverse driving' trend. The number of YouTube views of the music video for 'After School' exceeds 38 million. Still, it is continuing to rise every day.
On the other hand, Weeekly released their 3rd mini-album, 'We Play' with the title song 'After School' last month. It breaks their own records in all of their albums, music sources, and music video views. It is attracting attention with 'career high' grades.
Now, Weeekly is showing an overwhelming rise both locally and abroad. They are expected to continue their active activities in various fields such as real entertainment and music broadcasting.
Read More About: "Weeekly Will Be A Legendary Girl Group" – Ryan Jeon
KPOP
,
Kpop artist
,
Kpop artists
,
Kpop news
,
Kpop trend
,
Kpop trending
,
KPop trending news
,
Kpop trending now
,
kpop trending update
,
KPOP2021
,
KPOPIDA
,
KPOPNEWS
,
Trending
,
trending 2021
,
trending kpop
,
Trending Kpop news
,
trending kpop update
,
trending news
,
trending update kpop
,
trending updte
,
Weeekly
,
Weeekly Comeback
,
weeekly thrid mini album
,
weeekly_after school
,
Weeekly_We Play