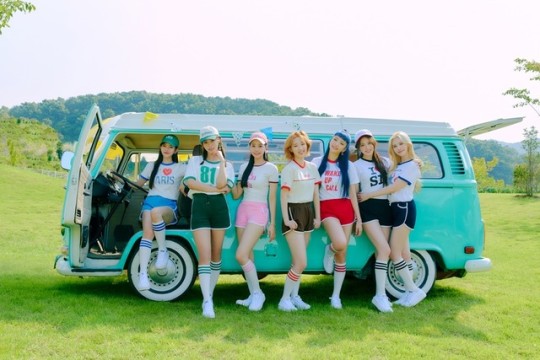 Kpop group Weeekly hits 100 million streams and emerged as one of the US TIME-UK NME's Best Kpop Of 2021. Girl group Weeekly surpassed 100 million streams on Spotify for the first time as a girl group debuted in 2020. Weeekly's title song 'After School,' of the third mini-album 'We Play' released in March, proved its global music power by surpassing more than 100 million times on the worldwide music streaming site Spotify on the morning of December 29. This is the first achievement in nine months since its release.
Weeekly achieved the title of '100 million Streams' for the first time among new girl groups that debuted in 2020. It is noteworthy that just three days before the New Year, Weeekly became one of the Korean artists to achieve 100 million streams on Spotify along with the best Kpop artists such as BTS, BLACKPINK, and ITZY.
Since its release, 'After School' started driving backward globally based on word of mouth from domestic and foreign fandom. It topped the Spotify Viral 50 global chart for three weeks in April. Also, it surprisingly entered 21st place on the Billboard World Digital Song Sales Chart in the first week of May. So, it gained a lot of attention from the US Forbes.
Notably, it surpassed 100 million views on YouTube music videos in September. It was included in the 2021 Best K-Pop selected by famous foreign media such as US TIME and UK NME at the end of the year.
Kpop group Weeekly won six 'Rookie of the Year' awards last year, followed by the 2021 Brand of the Year Awards, the 2021 The Fact Music Awards, the 2021 Asian Artist Awards, and the 29th Korea Culture and Entertainment Awards, proving its relentless rise and popularity.
Read More About: SEVENTEEN Woozi Unveils First Concept Photo For His First Solo Mixtape 'Ruby'
After School
,
agust d
,
best Kpop girl group
,
best kpop news site
,
best kpopstar
,
breaking news kpop
,
BT21
,
BTS
,
BTS Army
,
BTS BILLBOARD
,
bts butter
,
BTS fancam
,
BTS I'll Be Missing You
,
BTS J-Hope
,
bts jimin
,
bts Jungkook
,
BTS member
,
bts member Jimin
,
BTS member V
,
BTS Members
,
BTS News
,
BTS recent news
,
BTS routine
,
BTS solo songs
,
bts suga
,
BTS trending news
,
BTS UPDATES
,
BTS V
,
Chaeryeong
,
Codename: Secret ITZY 2
,
daily kpop news
,
Fandom
,
Filter
,
girl group Weeekly
,
Guess who
,
Holiday Party
,
It'z Different
,
ITZY
,
ITZY members
,
itzy news
,
ITZY updates
,
J-hope
,
JIMIN
,
Jin
,
JUNGKOOK
,
Korean celeb news
,
Korean singer
,
Korean singer songwriter
,
KPOP
,
Kpop album
,
Kpop beauty routine
,
Kpop boy group
,
KPOP BTS
,
kpop celebrity news
,
Kpop chart and news
,
Kpop colllaboration
,
KPOP comeback
,
Kpop current news
,
kpop daily news
,
Kpop fashion
,
Kpop girl group ITZY
,
Kpop girls group
,
Kpop group ITZY
,
Kpop idols
,
Kpop issues
,
kpop itzy
,
Kpop latest news
,
Kpop music chart
,
Kpop news
,
Kpop news articles
,
Kpop news sites
,
kpop news update
,
Kpop recent news
,
Kpop skin care routine
,
Kpop skincare routine
,
KPop trending news
,
kpop weeekly
,
KPOPNEWS
,
Lia
,
mafia in the morning
,
permission to dance
,
Play Game: Holiday
,
PlayM Entertainment
,
RM
,
Run BTS
,
Ryujin
,
South Korean singer songwriter
,
SUGA
,
TAEHYUNG KIM
,
the best kpop girl group
,
the best kpop girl group of 2021
,
the best kpop group of 2021
,
the top kpop group
,
top kpop boy group
,
top kpop girl group
,
V
,
Weeekly
,
Weeekly members
,
weverse magazine
,
Yeji
,
Yuna