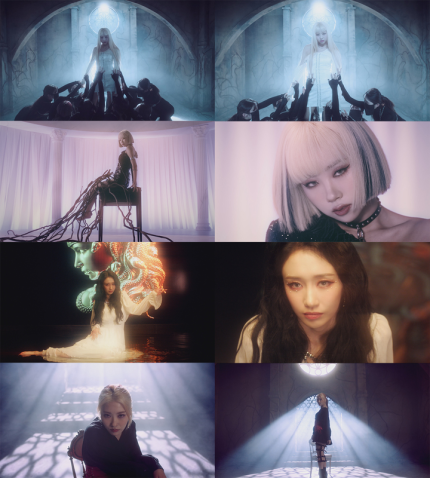 PURPLE KISS, a rookie girl group, has released a personal teaser video with a variety of styles.
On the 11th of March, Purple Kiss uploaded personal teaser videos of Ire, Doshi, and Ji-Eun Park. The teaser videos include some hints of their debut album 'INTO VIOLET.' It was released on the 11th of March through their official YouTube channel.
In the video, Chae-in exudes an alluring charm in a temple in the moonlight. While Ire transforms into a pure white goddess exuding an unrivaled aura among other dancers.
Also, Doshi gave a strong impact with a subtle expression among intertwined trees. Finally, Jieun Park sits mysteriously on water.
Purple Kiss's debut album started with their intro song 'Intro: Crown.' Along with it is their title songs, 'Ponzona', 'Can We Talk Again', 'Skip Skip', 'Hello', 'My Heart Skip a Beat', and 'Period.' Their debut album includes a total of 7 tracks.
Purple Kiss is a 7-member girl group that debuted after 6 years in RBW. They have excellent vocal talent and dance skills. Purple Kiss writes lyrics, composes, and completes their choreography. Also, they were highlighted as one of the K-pop artists to watch out for this 2021 even before their debut.
Meanwhile, the debut album 'INTO VIOLET' has been carefully prepared for a long time. It will be released on various music sites on March the 15th.
K-pop News You Might Be Interested In: Purple Kiss Debuted With Their Album 'Into Violet'