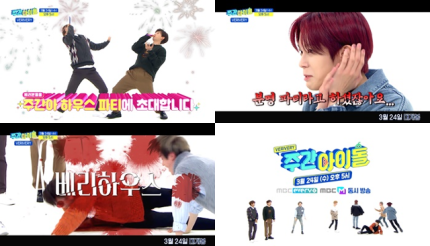 VeriVery appeared in 'Weekly Idol'.
On March 24th, VeriVery showed off his matured personal skills in 'Weekly Idol' broadcast through MBC Every1 and MBC M.
First, there is affirmation time for Kang Min, the rising face genius of the idol world. They conducted an unbelievable result from analyzing the golden ratio of Kang Min's face with a customized professional tool. It turned the studio upside down.
Also, Gwanghee made the studio into a sea of ​​laughter after Kang Min confessed his self-loved flaws. The result of Kang Min's golden ratio analysis and the confession of his weakness made MCs angry. It can be confirmed in the main broadcast.
On the other hand, Dongheon showed an ambitiously prepared vocal mimic, saying, "I want to create a personal skill as it is my 3rd year since my debut."
In the popular drama 'Penthouse," she plays 'Seokkyung Ju.' She is the one who follows Eun-byul Ha in the drama. Gwanghee Hwang (ZE: A) replays her gestures and facial expressions perfectly and gave the audience a laugh.
The personal parade of VeriVery becomes a face genius and a vocal genius. They appeared on 'Weekly Idol,' which aired at 5 pm on March 24th.
Read More About: Weeekly Proved Their Dance Skills With 'After School'