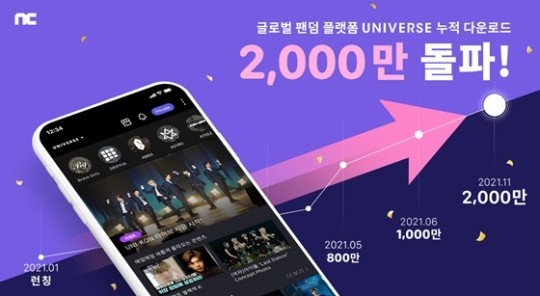 NCsoft's fandom platform, 'UNIVERSE,' has surpassed 20 million downloads within ten months after its launch.
According to NCsoft and Kleb, on December 7, UNIVERSE surpassed 20 million downloads in early December after its release in 134 countries in January this year. Currently, the number of service countries has increased to 233 countries. Then, monthly active users (MAUs) are about 4.4 million (as of October), and the proportion of overseas users is 89%.
In fact, UNIVERSE is a service that allows you to enjoy various online and offline fandom activities on mobile. It provides a total of 5,122 contents, including Kpop artists and self-produced original content. UNIVERSE features UNIVERSE music, original web entertainment series, pictorials, and radio, capturing the attention of global fans.
It led to the diversification of fandom platform services through partnerships with audition programs. So, UNIVERSE has partnered with Mnet's 'Girls Planet 999: Girls' War,' MBC's 'Idol Radio Season 2,' and JTBC's 'Sing Again 2.'
Also, various fan participation events such as online/offline FAN PARTY, one-on-one LIVE CALL, fan signing event, and exclusive live broadcast of the comeback showcases are taking place.
In addition, UNIVERSE presents limited edition NFT (Non-Fungible Token) goods from participating artists. It includes Daniel Kang, ATEEZ, AB6IX, Yuri Jo, THE BOYZ, MONSTA X, and GHOST9.
Currently, 'UNIVERSE' includes 30 active artists. It includes Daniel Kang, Ghost9, Eunbi Kwon, The Boyz, DRIPPIN, LIGHTSUM, MONSTA X, Jihoon Park, Brave Girls, VIVIZ, CIX, ASTRO, IZ*ONE, AB6IX, ATEEZ, (G)I-DLE, GOT7 Youngjae, Yerin, Oh My Girl, WJSN, Wonho, WEi, Weki Meki, EPEX, SF9, Yuri Jo, KARD, CRAVITY, Sungwoon Ha, and Youngji Heo.
Read More About: Sechs Kies Sunghoon Kang Shows Off His Different Look!
'The Man of the Pirate King'
,
After Midnight
,
After We Ride
,
astro
,
ASTRO comeback
,
Astro members
,
astro news
,
ASTRO pop-up store
,
Ateez
,
ATEEZ members
,
ATEEZ news
,
best Kpop girl group
,
best kpop news site
,
best kpopstar
,
BM
,
boy band GOT7
,
boy group Drippin
,
Brave girls
,
Brave Girls members
,
breaking news kpop
,
BX
,
Chaewon Kim
,
Chi Mat Ba Ram
,
CIX
,
CIX members
,
CIX songs
,
Cravity
,
cravity members
,
CRAVITY news
,
daily kpop news
,
DIVE
,
Dreamers
,
DRIPPIN
,
Drippin members
,
eunbi kwon
,
Eunwoo Cha
,
Fandom
,
Fireworks (I'm The One)
,
Free Pass
,
girl group IZ*ONE
,
Got7
,
GOT7 members
,
GOT7 news
,
group Drippin
,
Hola Hola
,
Hoseok Lee
,
Hyewon Kang
,
Hyunsuk
,
IZ*ONE disband
,
IZ*ONE members
,
IZONE
,
izone news
,
J.Seph
,
Jinjin
,
Jinyoung
,
Jinyoung Bae
,
Jiwoo Jeon
,
Jooheon
,
JUYEON
,
JYP Entertainment
,
Kard
,
KARD disbandment
,
KARD member
,
KARD member BM
,
Kiss Or Death
,
Korean celeb news
,
Korean singer
,
Korean singer songwriter
,
KPOP
,
Kpop album
,
Kpop Astro
,
kpop ATEEZ
,
Kpop beauty routine
,
Kpop boy group
,
Kpop Brave Girls
,
kpop celebrity news
,
Kpop chart and news
,
Kpop Cix
,
Kpop colllaboration
,
KPOP comeback
,
kpop cravity
,
Kpop current news
,
kpop daily news
,
Kpop fashion
,
Kpop girls group
,
Kpop GOT7
,
Kpop group CIX
,
kpop group cravity
,
kpop group Drippin
,
kpop group THE BOYZ
,
Kpop idols
,
Kpop issues
,
KPop iz*one
,
KPOP KARD
,
Kpop latest news
,
kpop monsta x
,
Kpop music chart
,
Kpop news
,
Kpop news articles
,
Kpop news sites
,
kpop news update
,
Kpop recent news
,
Kpop skin care routine
,
Kpop skincare routine
,
KPOP THE BOYZ
,
KPop trending news
,
kpop wonho
,
KPOPNEWS
,
Love Synonym
,
Miyawaki Sakura
,
MJ
,
Mnet
,
Mnet program
,
MNET SHOW
,
Mnet TMI News
,
MONSTA X
,
MONSTA X member
,
MONSTA X members
,
monsta x news
,
MONSTA X updates
,
Moonbin
,
NEW
,
OK' Prologue: Be OK
,
Rocky
,
Rollin
,
Sanha
,
Season Songs
,
Seunghoon
,
singer Wonho
,
somin jeon
,
South Korean singer songwriter
,
summer queen
,
Summer Taste
,
SWITCH ON
,
TESSERACT
,
The Awakening
,
the best kpop girl group
,
the best kpop girl group of 2021
,
the best kpop group of 2021
,
the boyz
,
THE BOYZ members
,
THE BOYZ NEWS
,
the top kpop group
,
THRILL RIDE
,
THRILL-ING
,
TMI NEWS
,
top kpop boy group
,
top kpop girl group
,
We Ride
,
WONDERLAND
,
WONHO
,
Wonyoung Jang
,
Yena Choi
,
Yonghee
,
Yujin Ahn
,
Yuna
,
Zero: FEVER Part.2