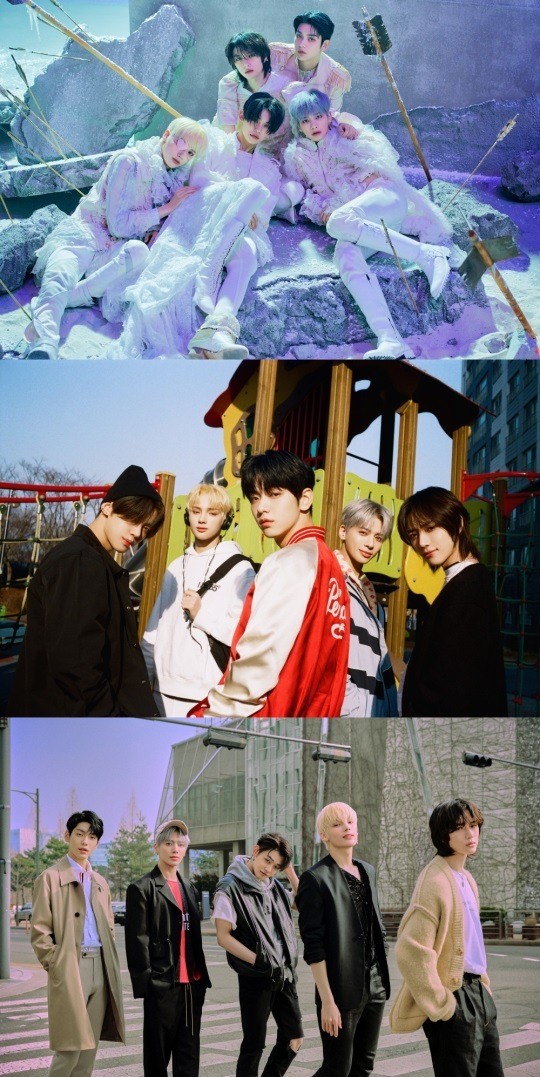 TOMORROW X TOGETHER (TXT), the 4th generation idol representative, has entered the 'popular long run' position by ranking first on Line Music daily chart, Japan's largest music site. They stayed on the top spot for three consecutive days.
TXT (Soobin, Yeonjun, Beomgyu, Taehyun, and HUENINGKAI) released the title track, 'OX1=Lovesong (I Know I Love You) Feat. Seori (Zero by One Love Song) of the album, 'The Chaos Chapter: FREEZE' on May 31st.
On June 3rd, it topped the Line Music Daily Chart. The song entered sixth place on the chart on the first day of its release. Then, it has been at the top for three consecutive days after securing the top spot the following day.
In fact, TXT's new song '0X1=LOVESONG (I Know I Love You) feat. Seori' (Zero By One Love Song) is a trendy hybrid pop-rock genre song. It is about a boy's 'self-assured' love who believes that only his love for you is certain when he met you in chaos.
Besides, the number of views on the new music video also surpassed 10 million in two days. Thanks to teenagers' support with stories that young generations living in the present era can only sympathize with. In addition, the song has trendy melodies, along with the excellent vocals and performances of the members. It gives a glimpse of the members' musical growth.
Currently, TOMORROW X TOGETHER (TXT) has been gaining popularity since the release of their 2nd full-length album 'The Chaos Chapter: FREEZE'. On June 1st, this album topped the iTunes 'Top Album' chart in 45 countries/regions worldwide. It includes UK, Japan, Canada, Netherlands, and Brazil. In addition, the title song is showing a fast-growing box office by taking the first place on the iTunes 'Top Songs' chart in 31 countries/regions worldwide.
Read More About: LABOUM, To Appear In Surprise On MBC 'Show! Music Core'
KPOP
,
Kpop 2021
,
Kpop artist
,
Kpop artists
,
Kpop idols
,
Kpop news
,
Kpop trend
,
Kpop trending
,
KPop trending news
,
Kpop trending now
,
KPOP2021
,
Kpopall
,
KPOPIDA
,
KPOPNEWS
,
Tomorrow_By_Together
,
Trending
,
trending 2021
,
trending kpop
,
Trending Kpop news
,
trending kpop update
,
trending news
,
trending update kpop
,
TXT
,
txt album
,
txt hueningkai
,
TXT KPOP
,
txt members
,
TXT News
,
txt soobin
,
txt taehyun
,
txt yeonjun