Kpop group Tomorrow x Together (TXT) won the 'Artist Of The Year Award' at the '2021 The Fact Music Awards.'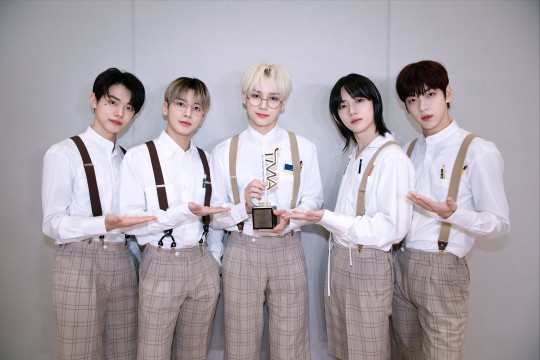 TXT won the 'Artist of the Year' award at the '2021 THE FACT MUSIC AWARDS (TMA).'
It took place on the afternoon of October 2.
Following the '2019 TMA-Next Leader' and '2020 TMA-Best Performer,' they won the 'Artist of the Year' award at the '2021 The Fact Music Awards.'
In short, they have been consistently receiving awards at 'The Fact Music Awards' for the third consecutive year.
Through VCR, TXT said, "We have been with 'The Fact Music Awards' since our debut until now. Thank you for giving us this year's 'Artist of the Year' following 'Next Leader' in 2019 and 'Best Performer' in 2020. Also, thank you, MOA (fandom), Big Hit staff, and producer Sihyuk Bang. Thank you to everyone who loves TOMORROW X TOGETHER (TXT)."
TXT has demonstrated its presence as a fourth-generation idol representative. They achieved remarkable results in various global charts. It is with their 2nd full album, 'The Chaos Chapter: FREEZE' and the repackage album, 'FIGHT OR ESCAPE.'
Notably, they have been on the chart for 13 weeks on 'Billboard 200' with 'The Chaos Chapter: FREEZE.'
It is one of the main album charts of the US Billboard. They earned the title of the longest-running album that ranked on 'Billboard 200' among Kpop group albums released this year.
Meanwhile, Tomorrow x Together (TXT), loved by Gen Z fans worldwide by releasing their feelings in real life through trendy melodies in their own style, TXT will host their first solo concert 'TOMORROW X TOGETHER LIVE 'ACT:BOY,' for the first time since their debut, on October 3.
Read More About: SEVENTEEN Wins Two Awards At The '2021 The Fact Music Awards'
2021 kpop news
,
2021 kpop news updates
,
2021 kpop updates
,
2021 news kpop
,
2021 The Fact Music Awards
,
best kpop news site
,
daily kpop news
,
KPOP
,
Kpop 2021
,
Kpop artist
,
Kpop artists
,
kpop celebrity news
,
kpop daily news
,
Kpop idols
,
Kpop latest news
,
Kpop news
,
Kpop recent news
,
Kpop trend
,
Kpop trending
,
KPop trending news
,
Kpop trending now
,
Kpop TXT
,
KPOP2021
,
Kpopall
,
KPOPIDA
,
KPOPNEWS
,
Kpopnews 2021
,
Kpopnews2021
,
latest kpop news
,
recent kpop news
,
soobin txt
,
trending kpop
,
Trending Kpop news
,
trending kpop update
,
trending news
,
trending update kpop
,
TXT
,
txt album
,
txt hueningkai
,
TXT KPOP
,
TXT kpop news
,
TXT kpop updates
,
txt members
,
TXT News
,
txt soobin
,
txt taehyun
,
txt the chaos chapter freeze
,
txt yeonjun
,
TXT_FREEZE