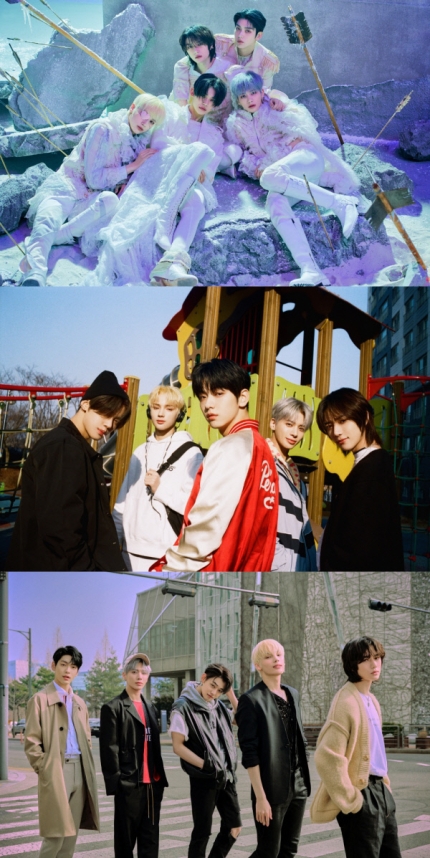 The next-generation group, TOMORROW X TOGETHER (TXT) from BTS' agency, is making a mark in the Japanese and British music markets.
TXT topped the Japanese Line Music Daily Chart for 6 days with the title track 'Zero by One Love Song (0X1=LOVESONG)' from its second full-length album, 'The Chaos Chapter: Freeze,' released on the 31st of May. The song, which entered sixth place on the day of its release, topped the charts on June 1st and remained at the top for 6 consecutive days.
'The Chaos Chapter: Freeze' is an album that TXT will post the prelude to the new series after the 'The Dream Chapter' series that has continued since its debut album. It tells the story of a boy who gets frozen by an attack on the world.
The album also dominated the UK charts. It reached number 19 on the UK Official Album Download Chart. Also, the title track ranked on 'Official Single Sales Chart Top 100' and 'Official Single Download Chart Top 100.'
In response, NME, a British magazine, gave a five-star rating, citing 'The Chaos Chapter: Freeze' as the best album ever by TXT in a review article titled 'K-pop Fourth Gen Leaders Find Love In A Hopeless Place.'
TOMORROW X TOGETHER will release its English song 'Magic' for the first time on ABC's morning talk show 'Good Morning America' on June 10th. They will also appear on the CBS late-night talk show 'The Late Late Show with James Corden' on June 15th.
Read More About: LIGHTSUM, The New 4th Generation Girl Group
2021 kpop news
,
2021 kpop updates
,
KPOP
,
Kpop 2021
,
Kpop artist
,
Kpop artists
,
Kpop idols
,
Kpop news
,
Kpop trend
,
Kpop trending
,
KPop trending news
,
Kpop trending now
,
KPOP2021
,
Kpopall
,
KPOPIDA
,
KPOPNEWS
,
soobin txt
,
Tomorrow_By_Together
,
trending kpop
,
Trending Kpop news
,
trending kpop update
,
trending update kpop
,
TXT
,
txt album
,
txt hueningkai
,
TXT KPOP
,
txt members
,
TXT News
,
txt soobin
,
txt taehyun
,
txt yeonjun