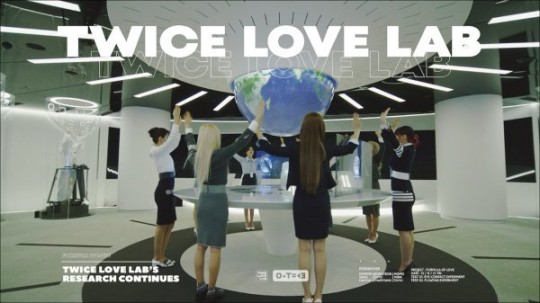 Kpop group TWICE unveiled the opening trailer for their new album 'Formula of Love: O+T=<3,' heralding a novel concept. JYP Entertainment released the opening trailer for the 3rd full-length album 'Formula of Love: O+T=<3' on TWICE's official social media channel at midnight on October 25, raising the fever for their comeback.
They conducted the trailer as a fake documentary-style interview, raising the interest of fans. The released 'TWICE LOVE LAB' researches and explained the changes that occur when you fall in love with the theme of 'What is love?'
TWICE appeared intelligently wearing glasses. They showed off the unexpected charm, saying, "The correlation between love and mass is a field we are secretly researching in our lab."
In addition, they tactfully expressed the love formula, pupils, and heart rate changes obtained through the wrong experiment with graphic effects. So, it adds a variety of visual beauty. On top of that, the members dressed up in neat shirts and jackets boasted their beauty, raising expectations for their new album activities. TWICE will release its third full-length album with a unique concept of 'love expert' and once again capture Kpop fans in Korea and abroad.
TWICE will release its 3rd full-length album, 'Formula of Love: O+T=<3,' about a year after its second full-length album, 'Eyes Wide Open' in October 2020. Before this, during their sixth debut anniversary week, they released sincere content and held a fan-participating event to express their strong love for fans. The anniversary activities lasted five days, from October 18 to 22.
On October 20, they held the 'TWICE 6th Anniversary: H6ME PARTY with 6NCE' live online on Naver V LIVE and the official YouTube channel. They created more special memories with ONCE (fandom) around the world. The new song 'CANDY,' included in the new album, was released in advance to further please the fans.
Kpop group TWICE will release their third full-length album, 'Formula of Love: O+T=<3' at 2 pm (KST) on November 12.
Read More About: HyunA, Wearing A Purple Swimsuit, Proves Her Sexiness
2021 kpop news
,
2021 kpop news updates
,
2021 kpop updates
,
2021 news kpop
,
best kpop news site
,
daily kpop news
,
Korean celeb news
,
KPOP
,
Kpop 2021
,
Kpop artist
,
Kpop artists
,
kpop celebrity news
,
kpop daily news
,
Kpop group TWICE
,
Kpop idols
,
Kpop latest news
,
Kpop news
,
Kpop recent news
,
Kpop trend
,
Kpop trending
,
KPop trending news
,
Kpop trending now
,
Kpop TWICE
,
KPop_Twice
,
KPOP2021
,
Kpopall
,
KPOPIDA
,
KPOPNEWS
,
Kpopnews 2021
,
Kpopnews2021
,
latest kpop news
,
recent kpop news
,
trending kpop
,
Trending Kpop news
,
trending kpop update
,
trending news
,
trending update kpop
,
TWICE
,
twice 10th album
,
Twice baby photos
,
twice comeback
,
twice comeback album
,
Twice Jihyo
,
TWICE KPOP NEWS
,
twice member sana
,
twice members
,
twice news
,
TWICE_DAHYUN
,
Twice_Jihyo
,
Twice_KPOP
,
twice_momo
,
TWICE_SANA
,
twice_taste of love
,
Twice_TZUYU