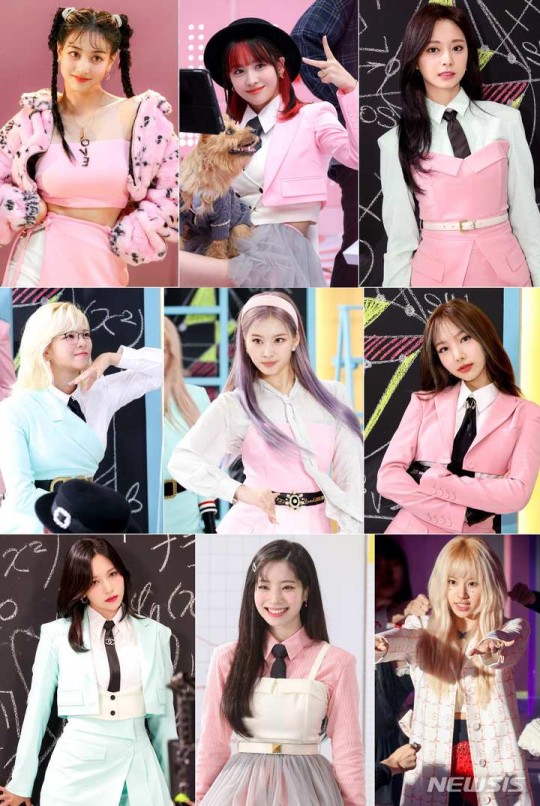 Kpop group TWICE unveils behind-the-scenes of their new song 'SCIENTIST' music video.
JYP Entertainment released the music video of 'Scientist,' the title song of TWICE's third full-length album 'Formula of Love: O+T=<3,' released at 2 pm on November 12. It topped the YouTube video trending worldwide as of November 13 and surpassed 45 million views as of November 17.
In the released image, you can see TWICE members posing in a pink set, styling using glasses and suits, and group dance.
Meanwhile, TWICE's third full-length album surpassed 700,000 pre-orders, setting its own record. It topped Hanteo Chart's weekly album chart and Gaon Chart's 46th-week retail album chart. In addition, it once again proved its global popularity by ranking 38th on the Spotify Daily Top Artist Global Chart as of November 14, 3rd on the Spotify Global Top Album Debut Chart from November 12-14, and 4th on the US Top Album Debut Chart.
Kpop group TWICE will hold its first performance of TWICE's fourth world tour, 'TWICE 4TH WORLD TOUR 'III' at KSPO DOME in Songpa-gu, Seoul, for three days from December 24-26. Starting with Seoul, they will continue their world tour to five US cities. It includes Los Angeles, Oakland, Dallas, Atlanta, and New York, in February 2022. Also, they will announce additional concert venues in the future and meet fans around the world to greet them.
Read More About: Girls' Generation Yuri Unveils Performance At MBC Show 'My Teenage Girl'
2021 kpop news
,
2021 kpop news updates
,
2021 news kpop
,
best kpop news site
,
daily kpop news
,
Korean celeb news
,
KPOP
,
Kpop 2021
,
Kpop artist
,
Kpop artists
,
kpop celebrity news
,
kpop daily news
,
Kpop group TWICE
,
Kpop idols
,
Kpop latest news
,
Kpop news
,
Kpop news articles
,
kpop news update
,
Kpop recent news
,
Kpop trend
,
Kpop trending
,
KPop trending news
,
Kpop trending now
,
kpop trending update
,
Kpop TWICE
,
KPop_Twice
,
KPOP2021
,
KPOPIDA
,
KPOPNEWS
,
Kpopnews 2021
,
Kpopnews2021
,
latest kpop news
,
recent kpop news
,
Trending
,
trending 2021
,
trending kpop
,
Trending Kpop news
,
trending kpop update
,
trending news
,
trending update kpop
,
trending updte
,
TWICE
,
twice 10th album
,
Twice baby photos
,
twice comeback
,
twice comeback album
,
Twice Jihyo
,
TWICE KPOP NEWS
,
twice member sana
,
twice members
,
twice news
,
TWICE_DAHYUN
,
Twice_Jihyo
,
Twice_KPOP
,
twice_momo
,
TWICE_SANA
,
twice_taste of love
,
Twice_TZUYU