Group TWICE once again won on a music show.
TWICE took first place on SBS 'Inkigayo,' which aired on June 27, with 'Alcohol-Free,' the title song of their new album 'Taste of Love.' The group did not appear on the live broadcast that day because they had to finish some activities.
With this album, TWICE achieved good results both locally and abroad. On June 26, it entered #6 on the US Billboard's main album chart 'Billboard 200,' and broke its own record. Also, it proudly ranked #9 on the Billboard 'Artist 100′ chart, which ranks artists' performances comprehensively. This is its highest ranking, climbing up 64 places from the previous record of 73rd.
In addition, TWICE proved its dazzling presence as a 'K-pop representative girl group' by topping Billboard's 'Top Album Sales,' 'Top Current Album Sales,' and ranking third on the 'World Digital Song Sales' charts. Then, it peaked at number six on the Rolling Stone album chart in the United States.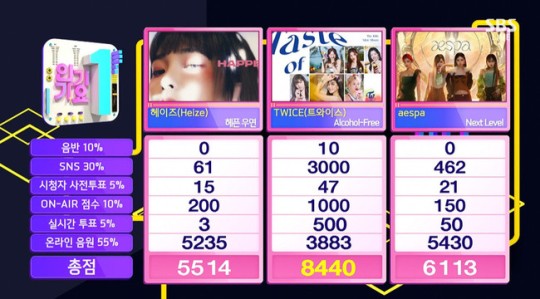 In 'Inkigayo' that aired on this day, LIGHTSUM, Ghost9, Yonja Kim, BamBam, Brave Girls, Up10tion, A.C.E, MC. Minzy (Junha Jeong), Woo!Ah, ONEWE, WEi, EPEX, Tae Ho, and Pink Fantasy appeared.
Among them, comedian Junha Jeong caught the viewers' eye by performing the new song 'I Say Woo!' as the sub-character MC Minzy.
Then, boy group A.C.E announced a splendid comeback with the performance of the new song 'Higher.'
Read More About: GHOST9 Boyish Charm Explodes With 'Up All Night' in SBS Inkigayo
2021 kpop news
,
2021 kpop updates
,
alcohol-free
,
KPOP
,
Kpop 2021
,
Kpop artist
,
Kpop artists
,
Kpop idols
,
Kpop news
,
Kpop trend
,
Kpop trending
,
KPop trending news
,
Kpop trending now
,
kpop trending update
,
KPop_Twice
,
KPOP2021
,
Kpopall
,
KPOPIDA
,
KPOPNEWS
,
SBS Inkigayo
,
Trending
,
trending 2021
,
trending kpop
,
Trending Kpop news
,
trending kpop update
,
trending news
,
trending update kpop
,
TWICE
,
twice 10th album
,
twice comeback
,
twice comeback album
,
TWICE KPOP NEWS
,
twice news
,
Twice_KPOP
,
twice_taste of love